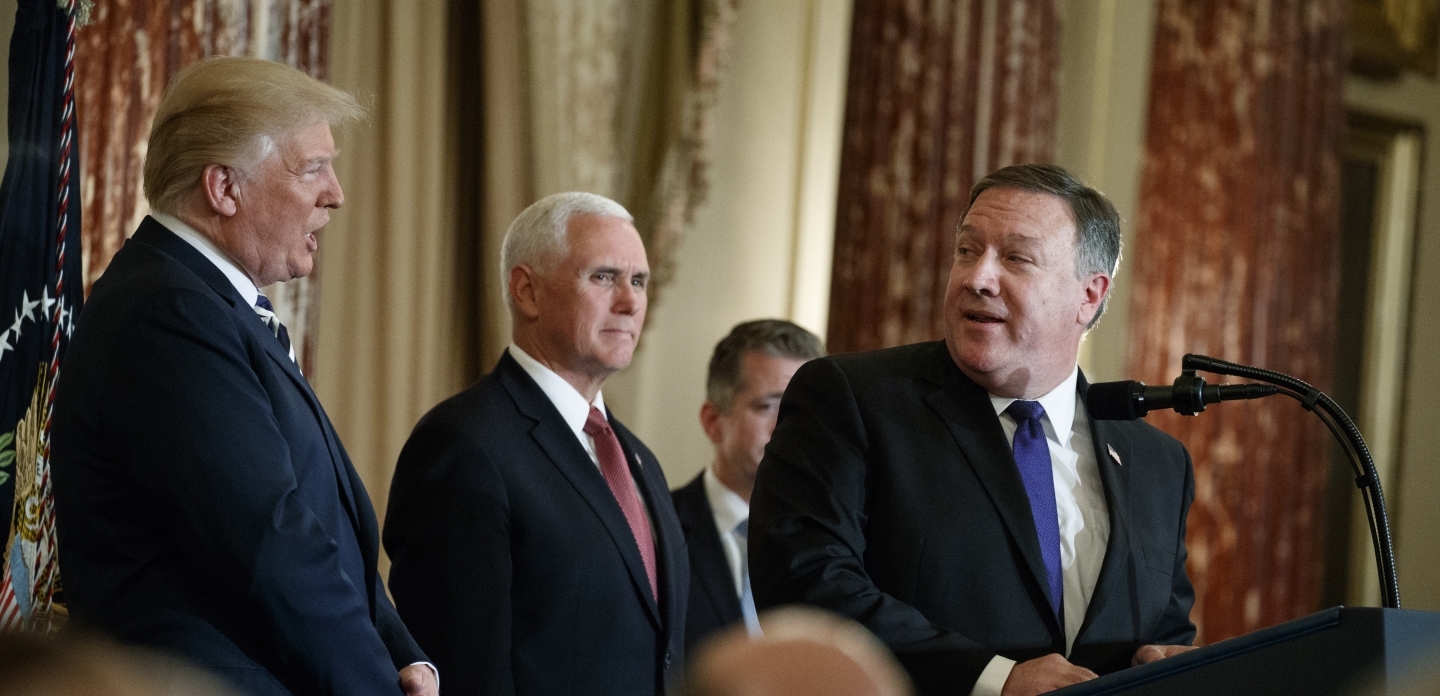 There is a new sheriff in charge of the State Department. Mike Pompeo announced, as soon as he took office as Secretary of State, that he is determined to bring back some "swagger" to American diplomacy. America's allies and enemies may shudder at the prospect, given that swagger is not in short supply at the White House. But for now they may want to suspend judgment.
The former tank commander, West Point and Harvard Law School graduate, congressman and, until last month, director of the CIA, is certainly more in sync with his President than was his predecessor. At his swearing in ceremony, which the President, Vice President and several cabinet colleagues attended, Pompeo struck a balance between humility and pride over his new assignment. His remarks were clearly intended not only to inject some backbone into America's global image but also to invigorate a depleted State Department, where morale is reportedly at an all-time low.
It is now generally regarded that Rex Tillerson was out of his depth as Secretary of State. He earned neither the confidence of the President nor support from the departmental rank and file. The transition from CEO of a major corporation to cabinet secretary is never easy, especially in Washington where leaks, backstabbing and intrigue are the order of the day and are often stimulated by the White House itself. It is an atmosphere in which it is hard to maintain one's balance, let alone reputation.
As Pompeo urged the employees at State to be vigilant and committed on the challenges ahead, he stressed the need for American diplomats to be front and centre in every part of the world. He personally got a head start on his new job with a highly secret and seemingly productive Easter weekend visit to Pyongyang while he was still CIA director. Pompeo senses the opportunity for a major breakthrough on the Korean Peninsula but he is clear-eyed about what will or will not make that a reality.
His second immediate challenge will be Iran. A skeptic about the Iran nuclear deal (more formally known as the Joint Comprehensive Plan of Action) he, unlike his predecessor, signalled explicit support for the President's perceived desire to break with that agreement – action that former Secretary of State Condoleezza Rice has recently observed "would not be the end of the world." Pompeo made a quick visit to key US allies in the Middle East immediately after his nomination was approved by the Senate and is clearly still digesting what he heard.
Interestingly, Pompeo is as much of a hawk on Russia as he is on Iran, certainly more so than the President.
Trump is juggling many major issues simultaneously – Korea, Iran and a broad commercial confrontation with China being dominant at the moment. He is a man obsessed with imagery more than substance and has an attention span that is as limited as his association with truth. But his confidence in his new Secretary of State is unabashed.
Consistently, Trump and Pompeo stress how previous US approaches to these and other global issues have not worked – a point that has some merit. However, their new and distinct approach, separating themselves from the discipline of consensus, alliance solidarity and institutional norms, will be tested in how they deal with Iran and North Korea.
There is no doubt that Pompeo has the capacity, the intellect and the confidence to be an effective Secretary of State. He undoubtedly has the President's ear. In his opening remarks at the State department, Pompeo openly acknowledged the positive contribution of the department's work force, including notably those at the United States Agency for International Development — a marked departure from his predecessor, who was swinging a wrecking ball against both. To his credit, Pompeo understands he will need solid support and commitment from American professional diplomats in order to extract success from any of the opportunities and challenges ahead.
When the elephant runs loose, the rule of law gets trampled and raw power prevails. Let us hope Pompeo understands that a runaway elephant threatens to undermine stability and prosperity for all, including the United States. His principal challenge as sheriff begins right at home.
This article originally appeared in The Globe and Mail.