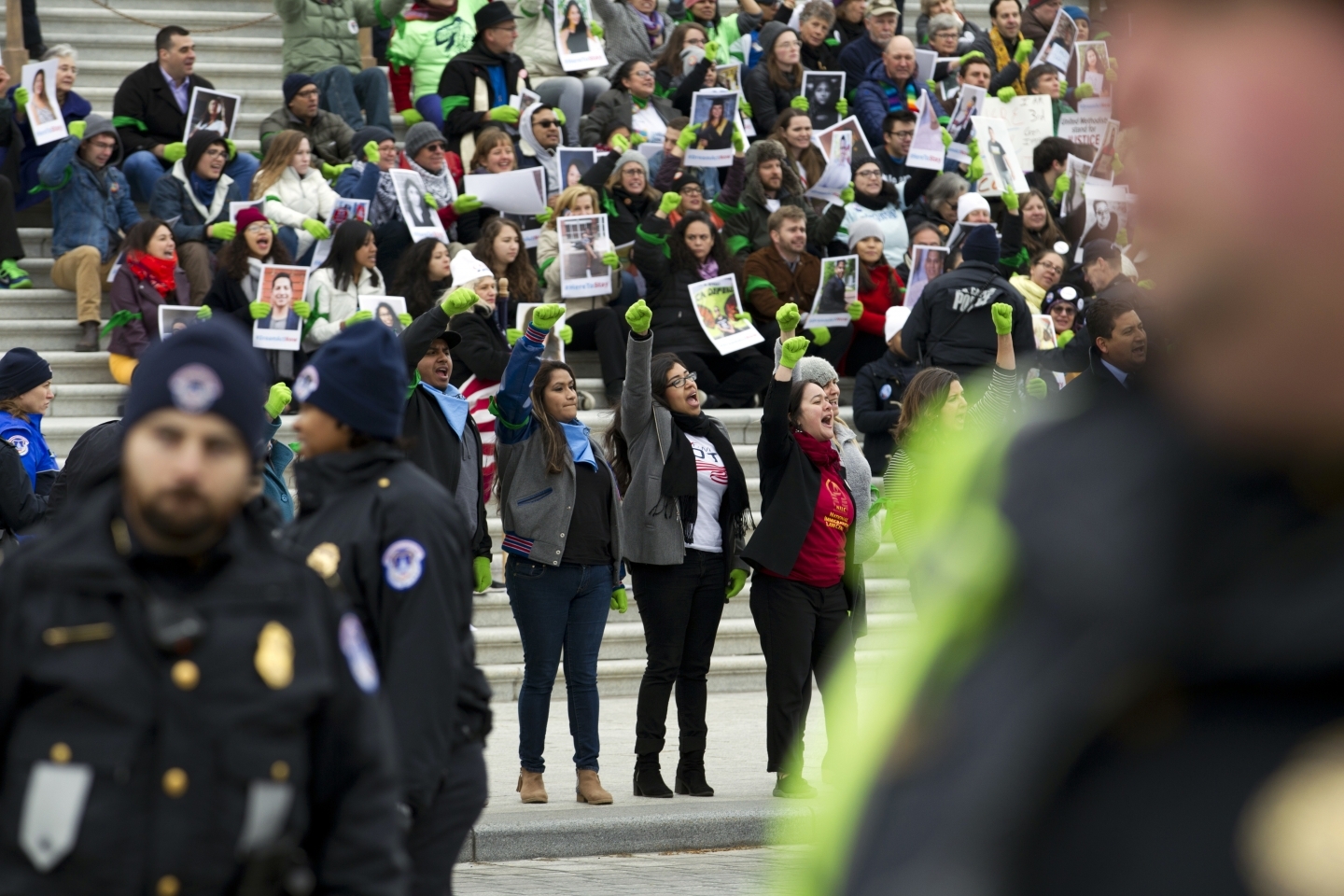 In 2017 and 2018, the US government announced its decision to terminate temporary protected status (TPS) for six out of the 10 countries it currently provides this designation to, including El Salvador and Honduras. The designation is set to end in September 2019 for El Salvador and in January 2020 for Honduras. TPS recipients from these two countries make up over 80 percent of the more than 400,000 TPS recipients in the United States.
While current TPS recipients from these countries fled to the United States during the 1990s as a result of civil war and natural disasters, more recently, hundreds of thousands of individuals from El Salvador, Guatemala and Honduras — a region known as the Northern Triangle of Central America (NTCA) — seek asylum at the US border as a result of endemic violence, citing extortion, death threats, sexual and gender-based violence (SGBV), and the threat of forced gang recruitment. As it stands, the United Nations' 1951 Refugee Convention and its subsequent protocol do not recognize violence as a factor in determining refugee status. With violence outside the scope of the Convention, individuals and groups who experience the many forms of violence and persecution, including SGBV and gang violence, are severely hindered in their ability to secure protection.
Violence in the NTCA
The NTCA is one of the world's most violent regions, outside of those currently experiencing war. According to the United Nations Office on Drugs and Crime, El Salvador, Honduras and Guatemala had, respectively, the first, second and fifteenth highest rates of intentional homicide worldwide. The UN Refugee Agency (UNHCR) reports that the number of people fleeing from the NTCA grew tenfold in the last five years, an increase that can be attributed to the high levels of violence in the region. Gangs, or maras, such as MS-13 and Barrio 18, control entire neighbourhoods and charge hefty extortion fees to people with no affiliation to gangs, frequently targeting public transport workers, small business owners and poor neighbourhoods. The targeting of these individuals creates a climate of fear and oppression, leading to the systematic disenfranchisement of citizens. Salvadorans, Hondurans and Guatemalans pay hundreds of millions of dollars a year in extortion fees. Failure to pay these fees often results in death threats directed not only to those unwilling or unable to pay, but also to their families. Reporting these threats to the police seldom resolves the issue. Security forces in the NTCA often cannot sufficiently protect civilians targeted by gangs and are subject to bribes and intimidation themselves.
Violence and a culture of impunity in the NTCA have created an environment in which SGBV is able to thrive. In fact, the ways in which systemic violence is experienced by individuals can be influenced by their gender. Organized gangs have recently tried to recruit women and youth, since they are seen to attract less attention when carrying out criminal tasks, such as collecting extortion payments or smuggling drugs. According to a report by the United Nations Development Programme, Latin America has the highest rates of violence against women in the world.
In her recent book chapter titled Mapping Gender Violence Narratives in the Northern Triangle of Central America (2018), Leda Lozier discusses how there is a "systematic authorization of violent language that fosters a culture of violence in which the treatment of women as inferior beings is natural and accepted in the 'social order of things'." While discussions on SGBV have become more prevalent, they are often narrow in scope, focusing heavily on the violence experienced by women and girls as a monolith and failing to acknowledge the gendered violence experienced by other groups, including men, boys and gender and sexual diversities. Discussions on forced displacement in international fora fall short of proposing meaningful and impactful solutions to the endemic gender-based violence that leads to the displacement of individuals within and outside of their country.
The asylum acceptance rates of individuals from the NTCA are among the worst in the United States. Between 2011 and 2016, the likelihood of asylum claims from Guatemalans, Hondurans and Salvadorans being denied were, respectively, 77 percent, 80 percent and 83 percent. Gang and domestic violence are not always considered sufficient grounds to qualify for refugee status in the United States, despite there being many documented cases where asylum applicants from the NTCA were assaulted or killed once they were deported. Women escaping SGBV face increased threats upon deportation to their countries of origin, risking retribution from the former partners or gangs who forced them to flee in the first place
TPS and Gender-based Violence
In 1990, the US Congress first introduced TPS designation for Salvadorans who had fled their country's civil war. Created as a way to prevent the deportation of civilians back to dangerous situations, the TPS designation has since been issued to countries undergoing devastating natural disasters, civil wars and conflict. To benefit from this status, those hailing from a country with TPS designation must prove that they have been residing in the United States before a set date. While TPS is only meant to last between 12 and 18 months, the continued renewal of TPS designations by government administrations since the 1990s allowed TPS recipients to stay in the United States for years, establish roots, start families and actively participate in the workforce.
While TPS has been hailed as a progressive policy, allowing for flexibility in granting protection status to individuals fleeing danger, it has also presented significant challenges. According to a 2016 survey, approximately 273,200 native-born US citizens have at least one parent who is a TPS recipient. And, as a result, families are at risk of being separated. The TPS fails to provide an effective avenue through which individuals are able to seek citizenship.
Despite the role SGBV plays in systematically disenfranchising and threatening individuals, forcing them to flee their homes to seek protection elsewhere, legal protections have fallen short. In June 2018, US Attorney General Jeff Sessions ruled that a Salvadoran woman could not be granted asylum on the grounds that she had been sexually, emotionally and physically abused by her husband. This decision fails to recognize that many individuals and groups are unable to seek out justice and security as a result of weak or complicit governments, in particular when they face a heightened threat based on their gender and sexual identity.
The problematic or toxic gender norms that foster an environment in which violence is sanctioned, celebrated or even encouraged have yet to be effectively addressed by either governments or international organizations. And, while some may see TPS as a way to address gaps within the refugee system — allowing for flexibility in granting protection in situations that fall outside of the Refugee Convention and US asylum laws — TPS falls short, too.
Obstacles for TPS Recipients
The short-sighted nature of the TPS designation is now the biggest obstacle for TPS recipients in seeking alternative opportunities for legal residency. Critics of the TPS policy have often described it as a "legal limbo"; on the one hand, it prevents (and now delays) deportation, while, on the other hand, it fails to include other viable paths to citizenship in its legal framework. Even sponsorship from immediate family members (likely the best option, given the number of families with TPS parents) may not be possible. Before a 2013 court ruling, certain TPS recipients would not have been eligible for sponsorship from their own immediate family members or employers if they had entered the country irregularly. Prior to the ruling, the TPS designation was not considered a legal form of admission or paroling by American immigration courts. Even now, this change in the definition is only applicable for people residing in the few states within the US Court of Appeals for the Sixth Circuit, where the ruling took place.
With various TPS designations set to expire and a lack of legal avenues for asylum and protection based on claimants' experience of systematic violence, it is clear that individuals will be forced to make difficult choices. Countries that lack effective policies to grant asylum or protection to these individuals will be forced to deal with this issue in an ad hoc and inefficient manner. The problem that systematic gender-based violence poses for individuals is unlikely to change in the near future. Hundreds of thousands of Salvadorans and Hondurans residing in the United States will soon find themselves either deciding to live there illegally or being forced to return to and reintegrate in countries where their safety, security and well-being cannot be guaranteed.
This problem is not unique to the United States or the NTCA. The case of individuals seeking asylum on the basis of SGBV is one that the global refugee system has not effectively addressed. With the global compact on refugees being finalized in the coming months, there is a real opportunity right now to ensure that we are, in fact, granting protection to the most vulnerable individuals around the world. It is vital that the compact include language that creates a culture of peace and security — free from all forms of violence and instability — around the world.