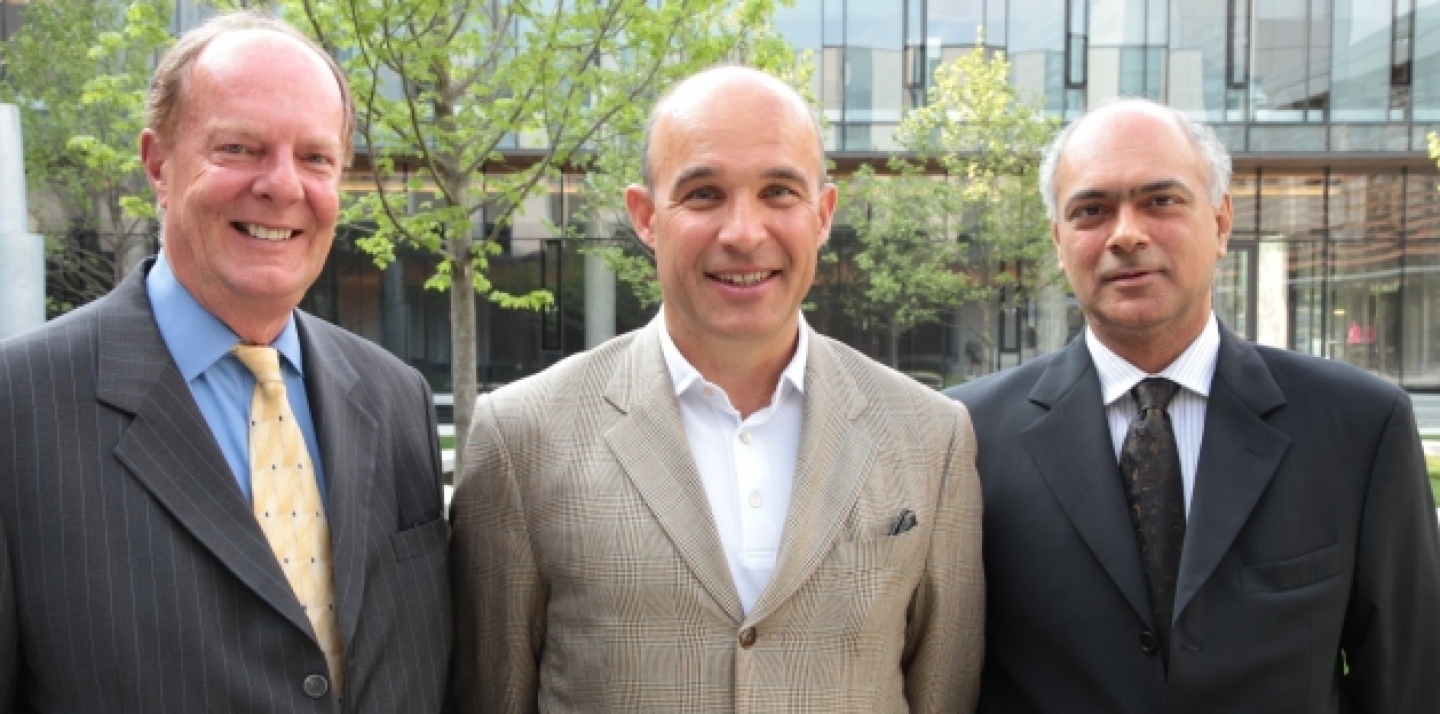 At traditional Jewish weddings, the ceremony ends with the groom crushing a wine glass (or a light bulb) underfoot, to symbolize a belief that joy must always be tempered. This act is said to help ensure balance and sobriety, even amid great celebration.
On Tuesday this week, an entire case of wine glasses was smashed to the ground in the grand foyer of the CIGI Campus, at the reception to thank outgoing CIGI Executive Director Thomas A. Bernes for his years of service, and to welcome incoming President Rohinton Medhora as our new leader.
Now, I don't think the catering staff intended any traditional symbolic meaning; they just accidentally dropped a case of 24 goblets.  But in that great hall of stone and tile, the thunderous crash of splintering glass – coming just as the ceremonial speeches were about to begin – was sobering nonetheless, briefly freezing the happy party.
To be sure, CIGI has plenty of cause for celebration. We're lucky to have Rohinton join us as leader. As CIGI chair Jim Balsillie noted in his welcoming remarks, the think tank's new president – coming to CIGI from the Ottawa-based International Development Research Centre – has a transnational reputation that is uniformly stellar.  
Similarly, we were lucky to have had Tom's leadership since 2009, with his expertise and networks in the global economy; and fortunately, he is staying with CIGI on the research side, as a Distinguished Fellow. He made a big difference in defining and relaunching CIGI's mission and strategy.
Rohinton, like Tom, is an economist by training; and this is fitting, since the global economy remains CIGI's top research priority, as it has been since this organization's founding in 2001. In fact, for a brief moment in time (between the filing of our papers of incorporation and when we actually started hiring staff), we were known as the New Economy Institute (NEI). In 2002, we renamed ourselves The Centre for International Governance Innovation.
(To continue on this tangent for a moment, I'm personally glad we switched our name to CIGI, which we pronounce as "see-jee." I much prefer the sound of that to "ni," which might have been the way to pronounce the NEI acronym.  It makes me think of Monty Python's Knights who say "Ni".)
Back to the global economy, then – our major focus at CIGI.  Having tumbled in 2008-09 amid a financial crisis that spilled across international borders and spawned recession in many developing countries, the worldwide economy continues to be troubled today.  Sovereign debt crises in the euro zone leave the investment markets wondering:  Can the European monetary union survive? How long can politicians and their debt-racked economies of entitlement avoid what experts largely agree will be the inevitable reckoning?  With some developed economies teetering at the brink of deflation, and growth decelerating in large emerging economies, are dark clouds gathering for an eventual global downpour? And what policy innovations in multilateral governance might help to avert such crises in future?
These challenges were being discussed among some of CIGI's research staff yesterday – even amid the leadership toasts.  You can't assemble a throng of economists and scholars on global issues and expect merely light banter. Soon, the talk turns to macro-prudential regulation, unsustainable economic imbalances and the risks or timing of the next big crash.
So we hardly needed the symbolism of breaking wines glasses to temper the CIGI celebrations this week. And we could only pray that there was no symbolism at all when, at the very end of the reception, the podium curtain's large metal poles suddenly collapsed to the floor with a shocking clatter.