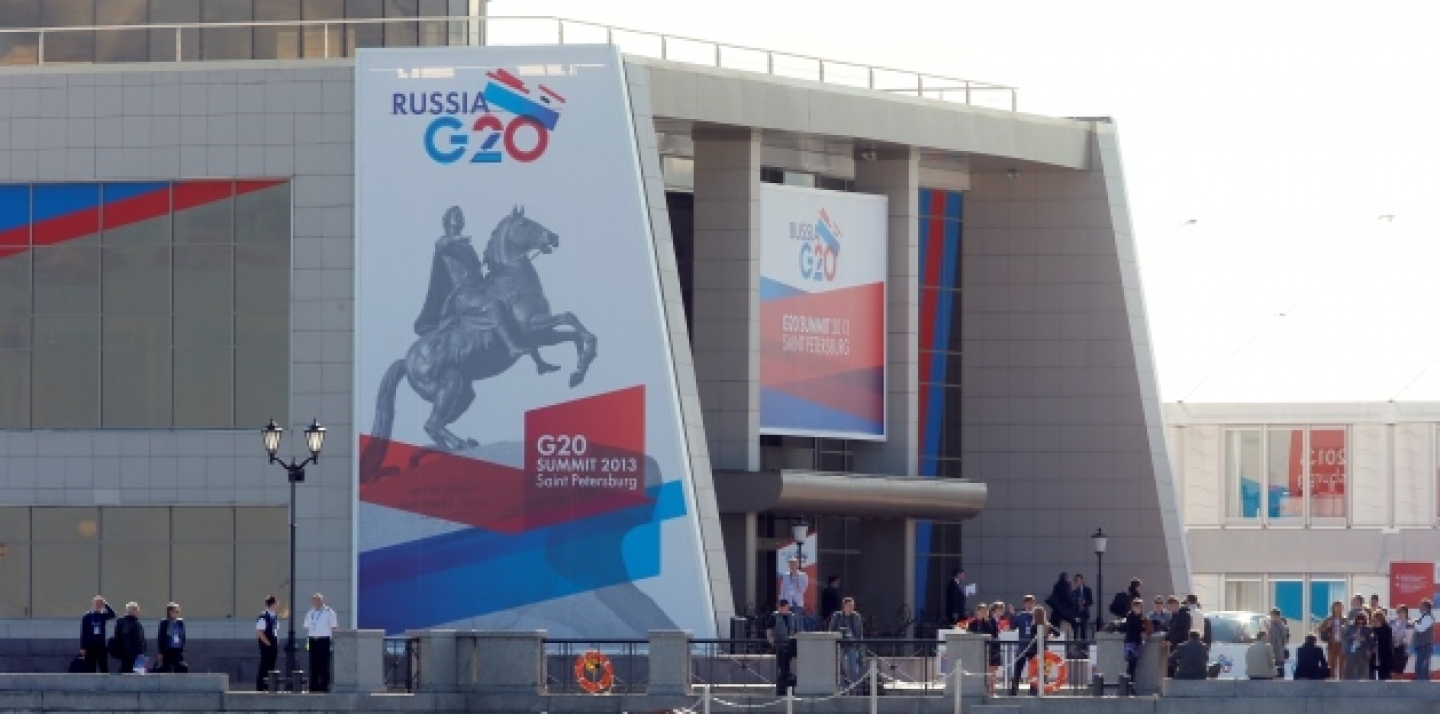 Here in St. Petersburg, presidents and prime ministers are arriving for the annual G20 leaders summit, under perfect sunny skies that belie the political grey clouds now darkening over international relations.
While the G20 leaders summits began in 2008 to address the then-erupting global economic crisis, and has since become known as "the world's premiere economic forum," the news that is top of mind at this meeting is the civil war in Syria and the looming prospect of US military intervention — an action opposed, to date, by summit host Russia.
CIGI, whose research programs helped lay the intellectual foundation or rationale for the formation of the G20, has attended all of its summits since 2008, with a team of experts whose foremost competencies lie in economic governance and cooperation. Our researchers get accreditation into the International Media Centre, where — together with 1,500 or more media people — they commentate, analyze and parse the leaders' movements, statements and final communique.
To this year's G20, CIGI has sent Domenico Lombardi, director of the Global Economy research program, and CIGI Senior Fellow Susan Schadler — both with considerable expertise and practical hands-on experience in international financial matters, including service by both at the International Monetary Fund. Also along on the expedition are two Public Affairs staff to assist in media relations and content production: Multimedia Editor Cambria Olding, and me.
But while Lombardi and Schadler are especially well positioned to comment on the prime mission of the G20 in returning the global economy to pre-crisis health, with improved checks and balances to avert a similar debacle, the highest degree of interest among media this time around is the Syrian challenge.
Even as we entered a hotel restaurant for breakfast, a reporter for SkyNews (Arabic) was interviewing other summit-accredited journalists from a variety of countries — identifiable by our G20 badges — for opinions on whether the Syrian war would dominate summit leaders' deliberations. "Will the US and Russian presidents have their own bilateral tete-a-tete on this conflict?" she asked. For my part, I told her with an unjustified air of certainty that I believed they would.
And in a series of interviews this afternoon with CBC Radio One in Canada, Schadler was asked as much about the Syrian issue as about the summit's meat-and-potatoes economic fare.
All media get to the summit site — on the grounds of the historic Constantine Palace, summer resort of tsars Peter and Catherine the Great — by Meteor tour boats, crossing the Gulf of Finland's calm waters from St. Petersburg's marine terminal to the palace dock.  It's a gorgeous setting, and a beautiful time of year, with balmy breezes providing pleasant relief from the blazing sun — all of this a glorious backdrop to what ought to be an opportunity for improving international cooperation. But the scenery is overshadowed by the horrors of civil war, chemical weapons use, and threats of superpower missile attacks.