Angela Merkel will be hosting the Group of Twenty (G20) Summit in the Hanseatic German city of Hamburg. The chancellor is no novice when it comes to dealing with leaders from across the globe. She is in her element in such gatherings.
During her dozen years in office, Merkel has had a knack of listening and waiting before weighing in on any issue. But not anymore. The transatlantic relationship is under such severe strain that the economic, social and political values that underpinned the West are now being undermined. Merkel is no longer prepared to remain quiet about the fragility of the West and American leadership. She is not going to hold back in Hamburg.
"He [Trump] has a concept of globalization that differs very sharply from mine," Merkel said in an interview at a Berlin theatre for women's magazine Brigitte. "You have to take that into account when we assert our interests. You have to be realistic."
No wonder then that Hamburg could be the setting for a major duel between Merkel and President Donald Trump. The duel is between Merkel's and Trump's view of the West and, by implication, globalization.
Until now, despite many disagreements between the European Union and the United States, the alliance held together. Certainly there were big differences over how to deal with security, terrorism and migration and the euro crisis. But the basic tenets of the relationship were based on values, free trade and more recently climate change. Barack Obama's decision to sign up to the Paris Agreement on climate change marked a major shift in American policy that helped to strengthen the transatlantic alliance. Not only that. Despite the geostrategic shifts, with China exerting its interests in Southeast Asia but also through its One Belt, One Road policy, by the time Obama left office last January, the transatlantic relationship was not at all in bad shape. His main interlocutor was Merkel. The North Atlantic Treaty Organization and the European Union took second place.
Six months into the Trump administration, the West is floundering but in a different kind of way.
Europe and the United States are at odds over many fundamental issues that define the West. That is why the G20 summit is so important to Merkel, to her country, to Europe and indeed to most of the other members of the G20. It is about ensuring the leadership of the democratic West when it comes to setting standards on trade issues, climate change, migration and terrorism. For Merkel, America First or any à la carte arrangements are anathema to multilateralism and to the Western liberal order.
These four issues require intense engagement, and, if at all possible, agreement and trust between Europe and the United States at Hamburg. But the circumstances are far from auspicious.
Since last January, engagement has been replaced by Trump criticizing Germany at any given opportunity, knowing full well how Merkel is still Europe's undisputed leader. Trump's criticism has focused on Germany's big trade surplus. The Germans were "bad, very bad" when it came to trade, he said. Trump said Merkel's decision to take in over a million refugees fleeing the war in Syria and Iraq was an "utterly catastrophic mistake by letting all these illegals into the country." As for the Paris climate accord, Trump said his decision to pull the United States from the landmark agreement was "a reassertion of America's sovereignty," adding he was "elected to represent the citizens of Pittsburgh, not Paris." As for Berlin's role in Europe, Peter Navarro, the head of the US president's National Trade Council, said Germany "continues to exploit other countries in the EU as well as the US with an 'implicit Deutsche Mark' that is grossly undervalued."
Trump repeated some of his grievances at the Group of Seven (G7) summit in Sicily, which explains Merkel's outburst — and frustration — during a meeting in Bavaria of the Christian Social Union — the sister party of her governing Christian Democrats.
"The times in which we could completely rely on others are over to a certain extent. That is what I experienced in the last few days," Merkel said. "That is why I can only say: We Europeans must really take our fate into our own hands." Yet Europe is in no way in a position to do that. It has no integrated fiscal and economic policy. It has no coherent foreign policy. And it has no unified defence policy, let alone a policy about hard power. But at least these issues are being discussed because of what is happening in Washington.
Before Trump entered the White House, Merkel was alone at the top in Europe. Populism was on the march in many EU countries. Merkel, however, never shifted her stance in a bid to pander to populists or shore up her popularity. Not one to show emotion, Merkel was visibly shocked when a year ago the British voted to leave the European Union. Populist movements sensed they were on a roll.
But look what has happened in these past months. The shock of Brexit and then the election of Trump swung the mood in Europe. France now has Emmanuel Macron, a new, young, passionately pro-European president whose election campaign never shied away from speaking out for Europe. The Netherlands managed to keep the staunch anti-EU politician Gerd Wilders at bay. The once-battered euro-zone countries of Ireland, Spain and Portugal are economically bouncing back. Even Greece, so burdened with years of austerity that could undermine its fragile democracy, is slowing returning to growth, albeit from a very low base. It's not all plain sailing. Italy, an important EU and G20 member could still be the Achilles heel of Europe — because of its inability to embrace reforms and make politics less dysfunctional.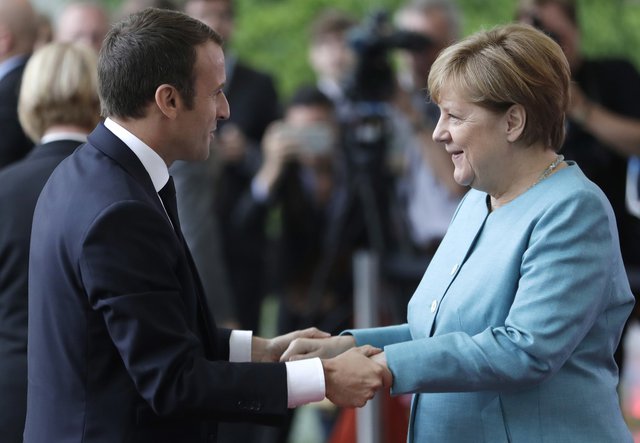 On the other side of the Atlantic, don't forget Canada. Prime Minister Justin Trudeau and his dynamic foreign minister Chrystia Freeland are hell-bent on making Western leadership relevant, despite Trump's sheer unpredictability. Freeland's role in securing the trade deal between the European Union and Canada cannot be underestimated. Indeed, the leaders of the EU's institutions finally realized why the deal could not be held hostage by a regional Parliament in Belgium. They also realized the crucial importance of moving ahead and at a much faster pace with trade accords with Japan, Singapore and New Zealand, to name just a few countries on the agenda of the EU's trade commission. All these developments are good news for Merkel. But are they enough to make Hamburg a success? German officials are far from optimistic.
Consider trade. "I wonder will we even get a communiqué about free trade and the need to push back anti-protectionist measures," one official from the Federation of German Industry told me. "The atmosphere is really terrible."
As he has shown, Trump never misses an opportunity to criticize Germany's trade surplus. But there just might be a silver lining to his anti-protectionist policies.
The European Commission that is responsible for trade now has the chance to speed up accords with countries across the globe. These agreements are never easy. Several EU countries, in particular Germany, when it comes to cars, and France, when it comes to agricultural produce, are adept at drawing out the negotiations. But the White House decision to scrap the Trans-Pacific Partnership and Transatlantic Trade and Investment Partnership and revise the North American Free Trade Agreement could be exploited by Brussels. Yes, trade agreements have become fiendishly complex, so much so that the competences of the commission are no longer wide enough to deal with them. This means that the member states have a say over issues such as transport and consumer protection issues. But there is a growing realization among the member states about the need for the European Union to use trade to strengthen alliances but also to use these accords to disseminate its values.
In Hamburg, Trump is certain to face strong criticism from Europe, but also Japan, Canada, Brazil, Argentina, South Korea, India and China (not that Beijing is a model for free trade) over his protectionist policies. Merkel has been working hard to make free trade a sine qua non. The question of the moment is whether she can have a communiqué that endorses free trade. The fact that US Commerce Secretary Wilbur Ross cancelled at the last minute a visit to Berlin on June 27 doesn't bode well.
The other contested issue is climate change. Trump's attitude toward the Paris accord is well known. So is Europe's. But Merkel is not taking it for granted that the other G20 leaders will endorse the Paris Agreement. The chancellery has worked hard to keep China and India on board by rolling out the red carpet in Berlin for the Chinese premier, Li Kequiang, and Indian Prime Minister, Narendra Modi. Berlin has a host of grievances with both countries, including investment and intellectual property rights issues. But it seems that Beijing and New Delhi will sign up to a communiqué on climate change.
What Berlin doesn't yet know is if Australia or Russia would break ranks and side with Trump. Were that to happen, it would be a big blow to the Paris accord and to Europe. Yet Europe could turn this into an advantage by becoming the beacon for climate change. For that, it would need unqualified support from China and India.
Then there is the migration issue. This is immensely sensitive, complicated and divisive for EU members, not to mention the United States.
The G20 is divided over how to deal with refugees and migration. Yet over the past year, Merkel has homed in on how to address these two issues, in particular migration. It's worth reading her recent speech,"G20 Africa Partnership — investing in a common future," that she gave to a huge gathering of African leaders. "The idea is for each country to say what development steps it considers necessary and how it thinks we can help and how, together, we can make available suitable instruments, so that the relevant development projects do succeed," she said.
Because of the migration issue — and the impact climate change is having on certain regions, particularly the Sahel — Merkel has only recently discovered Africa. The European Union is potentially a big player in realizing the G20 African Partnership. But given Trump's decision to reduce aid, particularly assistance related to family planning, Merkel will have to work hard to secure a communiqué that has serious substance.
Then there is the issue of counterterrorism — which loomed over the G7 summit in Taormina — and security. In broad terms, the G20 can agree that when it comes to terrorism, they share a common threat perception. But neither Merkel nor for that matter any other G20 leader has any illusions about the difficulty of coordinating counterterrorism effectively — or of defusing cyberwarfare, which German officials have acknowledged presents new risks.
Both have the potential to create havoc; both have the potential to shake democracies; but both also have the potential to force the West in particular to take a hard look at resilience. That is something Merkel and other G20 leaders have yet to address.
That aside, given the immense changes taking place across the world, Merkel and her allies in Hamburg need to ram home the point that the alternative to free trade, democratic principles, protecting the climate and developing a partnership with Africa — without anchors — is not only the return to unilateralism. It would lead to a free for all and an unstructured world order. This is the quiet message that Merkel's team is relaying to the G20 members. It is the opposite of Trump's.