The CIGI Global Policy Forum is an exclusive, invitation-only series of talks offering  authoritative analysis on policy-relevant issues affecting Canada and its place in the world. Launched in 2012 by The Centre for International Governance Innovation, and held at the Rideau Club in Ottawa, the CIGI Global Policy Forum offers audience members access to a wide range of distinguished speakers: policy experts and influencers shaping the world's debates and discussions on global economic, security, development and environmental issues.
Event Speakers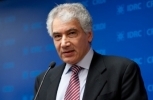 Managing Director, Economic Research Forum
Ahmed Galal joined CIGI's former International Board of Governors in 2003, and now serves on CIGI's Board of Directors. Currently, he is managing director of the Economic Research Forum. Ahmed served as Egypt's finance minister between July 2013 and March 2014.