The Centre for International Governance Innovation (CIGI) and the SAIS Foreign Policy Institute (FPI) at Johns Hopkins University are organizing a roundtable discussion on Domestic Political Economy and China's 'Going Out' Strategy.
This event is a policy and research roundtable discussion with senior officials and academics, focusing on the connection between China's domestic political economy drivers of its new activism in foreign financial policy. The experts will explore the domestic sources of the "going out" strategy, the role of China's domestic institutions in shaping its economic, and the impact of its financial engagement abroad on domestic reform.
Each participant is requested to submit a two-page document ahead of the event with their research in this area. If you have any additional questions on the program please contact Alisha Clancy, Program Manager Global Economy, CIGI: [email protected].
Event Speakers
Hongying Wang (王红缨)is a CIGI Senior Fellow. She is also associate professor of political science at the University of Waterloo, specializing in international political economy and East Asian politics. At CIGI, Hongying is focusing on the limits of the exchange rate mechanism in addressing China's role in global imbalances and China's role in several areas of global economic governance.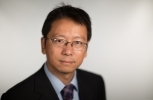 Xingqiang (Alex) He is a CIGI research fellow. His work focuses on China and global economic governance, the G20, domestic politics in China and their role in China's foreign economic policy making, and Canada-China economic relations.