The Institute of International Finance, National Stock Exchange of India, Export-Import Bank of India, and International Finance Corporation will co-host the conference.
The event will provide a unique opportunity to discuss with leading officials from India and around the world the key opportunities and challenges for sustaining momentum for economic growth, financial sector reform, and capital market development in India.
CIGI Senior Fellow Kevin Carmichael will participate at the conference.
Event Speakers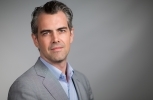 Kevin Carmichael is a CIGI senior fellow and a national business columnist for The Financial Post. Kevin began his career in journalism reporting with The Canadian Press between 1998 and 2000. He worked at Bloomberg News, first in Ottawa and then in Washington, DC, between 2000 and 2005. While at Bloomberg, he covered the Bank of Canada, the US Treasury and also visited several countries as a member of the Treasury's press pool. Kevin joined The Globe and Mail in 2008 as the national business correspondent.