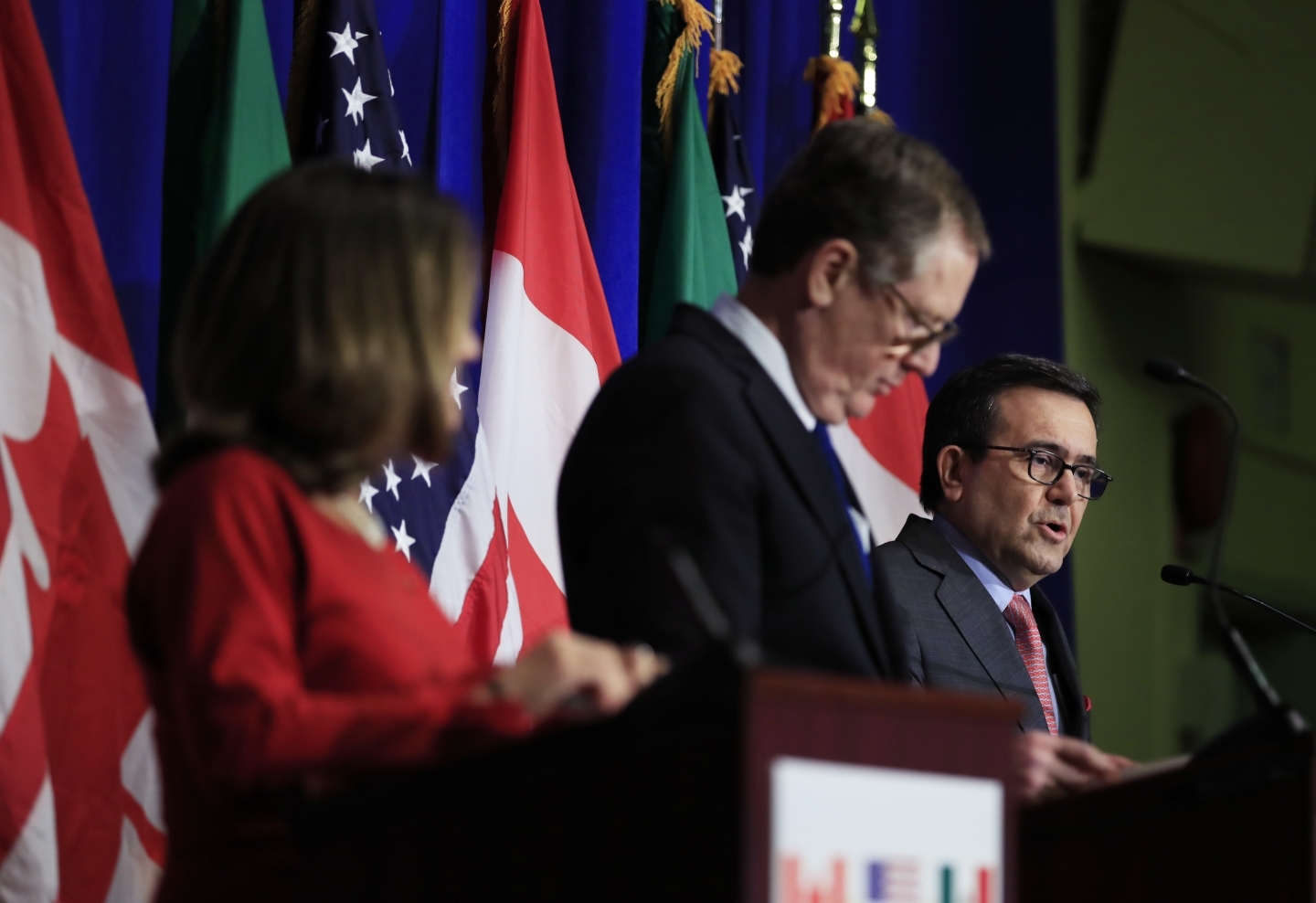 For almost two months now, North American Free Trade Agreement (NAFTA) negotiators have told spectators that all parties are close to reaching a deal. Yet, while frantic negotiating sessions have taken place at the highest levels, the last two rounds have produced the same anti-climatic result: "progress is being made." This week, another such negotiation round is taking place, again with ministers leading the charge for an undetermined amount of time. Will the third time prove lucky?
United States Trade Representative Robert Lighthizer is pushing for a deal by the end of May. This is when the current temporary exemptions on the steel and aluminium tariffs will expire. Furthermore, Lighthizer argues that a window of opportunity will be lost if no deal is agreed to now — which is the only way that the current Congress, dominated by (supposed trade-friendly) Republicans, can sign onto NAFTA 2.0. Otherwise, it will be up to the next Congress, when Democrats may be back in control of the Senate, to agree to a new NAFTA deal.
It is not at all clear, however, that the current Congress would be better able to pass the new NAFTA than the Congress that will replace it following the November mid-term elections. Republicans do not currently have enough of a majority in the Senate (less than 60 percent) to overcome Democrats' concerns about labour and environment chapters or the investment protection provisions, notably the investor-state dispute settlement mechanism.
Arguably, Lighthizer is trying to create a sense of panic with the United States' North American partners. He is conjuring fears that, if not now, there will never be a NAFTA deal. Or, even worse, that President Donald Trump will probably pull the United States out of NAFTA altogether, since he said he would do so if no agreement to his liking could be found.
With such scare tactics, the US team hopes that Canada and Mexico will cave in and agree to their demands on rules of origin in the auto sector, supply management in Canada's dairy sector and investment protection, to name only a few.
The problem with this approach is that it is not working. Canada and Mexico are happy to accelerate the negotiations in order to get to a new, modernized NAFTA; however, they do not see the need to acquiesce to the United States' protectionist demands, which would result in a negotiated NAFTA that looks worse than the original pact. In such a case, one might as well maintain the status quo.
Politically, the current Canadian and Mexican governments have nothing to gain by appearing to give in to the United States.
For Mexico, the only thing that could help José Antonio Meade, the incumbent party's candidate, in the July 1 presidential election is an agreement that is seen as being beneficial overall to the Mexican economy. This means that, for example, the United States would have to abandon its latest proposal on rules of origin, which hinges on Mexican auto plants paying its workers more competitively, at a rate of US$16 an hour — what US workers are paid on average in southern plants (although still less than in northern plants, where hourly pay is closer to $30).
And for Canada, with the next federal election 28 months away, there is no rush. There is still time to reach a "win-win-win" deal. Moreover, the last thing that Prime Minister Justin Trudeau's Liberals want is to go into an election looking like they sold out to the Americans on NAFTA.
Imagine what would happen to Liberal support in Ontario and Quebec if the federal government agreed to the United States' demand to abandon supply management in the dairy sector. And, in the rest of the country, people would balk at the idea of having to spend more than $30 billon of taxpayers' money to compensate dairy farmers. Bending to US NAFTA demands would be political suicide.
Given the politics around the NAFTA renegotiations, Lighthizer will have to give up most of the United States' demands, including the so-called "sunset clause," if he wants a quick deal.
Since the beginning of NAFTA talks in August of last year, the Trump administration has been pointing a figurative gun at Canada and Mexico, threatening to pull the trigger if either country refuses to accept what the United States is demanding. It is time to drop the gun and negotiate in good faith to find an acceptable NAFTA 2.0. Scare tactic negotiations are never credible when your partners know all too well that pulling the trigger could also backfire.