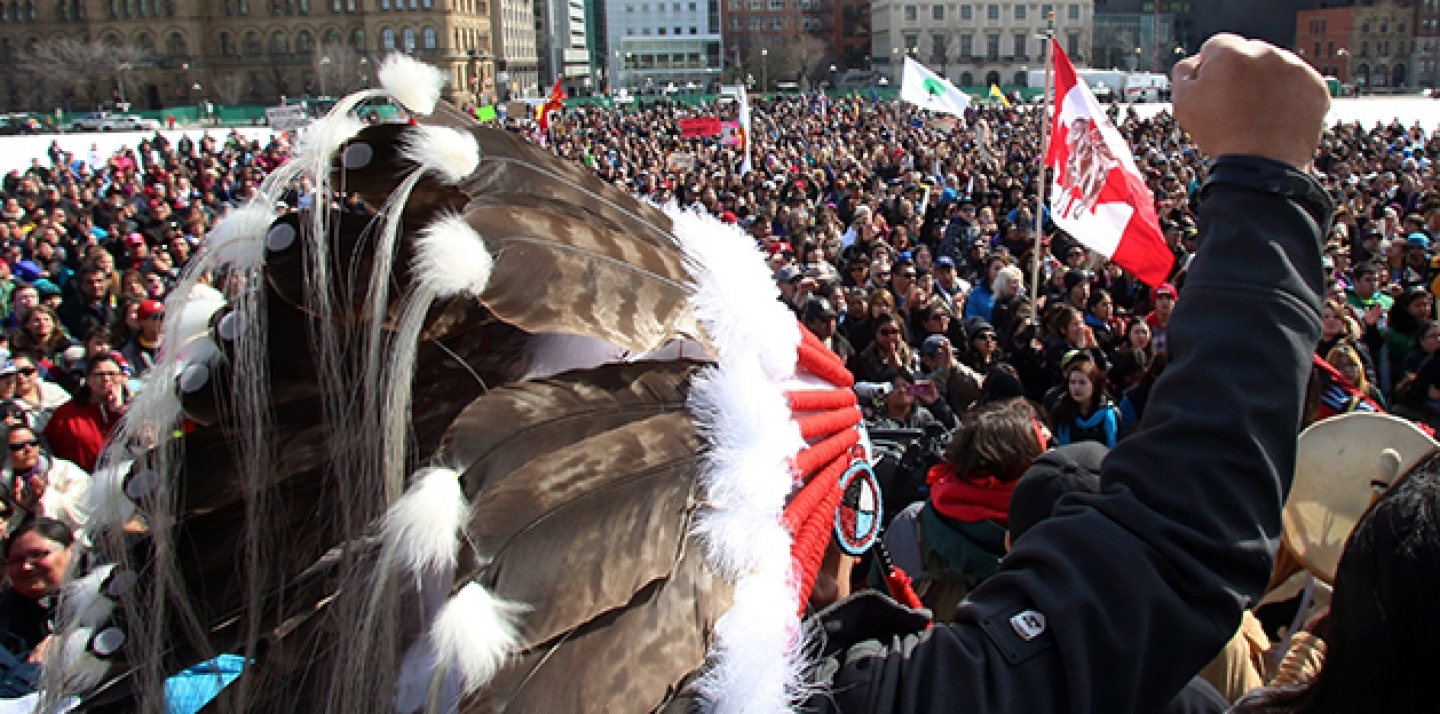 The UN Global Compact, First Peoples Worldwide and Future500 sponsored a one day workshop, hosted by Mitsubishi Corporation Foundation for the Americas, on April 23 2015 in New York, to explore the possibility of developing a community of practice between businesses involved in resource extraction, indigenous communities and their advocates. Conducted under the Chatham House Rule, there was a productive and positive discussion, with many shared insights from indigenous community representatives and business leaders, and much exchanging of business cards for future collaboration.
At this meeting extractive industry multinationals, indigenous advocates and businesses, non-governmental organizations and think tanks were represented. While there were no government participants, a view was expressed by some participants that governments were not particularly helpful to either the indigenous communities or business in addressing their issues around resource development. The criticism was that governments may focus too much on what domestic law requires, and in most states, it does not go quite as far as the UN Declaration on the Rights of Indigenous Peoples (PDF) in enshrining the concept of free, prior and informed consent (FPIC) in decision-making affecting indigenous communities.[1]  Some governments rely on the mantra that the UN Declaration is only soft law, not legally binding, and therefore they will not establish processes that go as far as providing for FPIC for the affected indigenous community. 
Notwithstanding this argument for legal precision, businesses involved in the extractive industry need to obtain the social license to operate and this effectively means they want a deal that has the support of the indigenous community affected by the proposed resource development.  A corporation seeking to implement a major resource development project may not want to offend the indigenous community by quibbling over international or domestic legal enforceability; they might prefer to make a deal that satisfies all sides.  In practice this means that they will be acting in a way that seems consistent with the concept of FPIC, even if the domestic law does not go so far or require as much.
One speaker provided an interesting perspective on how domestic and international law are in a state of evolution, moving toward the concept of FPIC becoming global rule of law. Admitting a certain element of advocacy in the argument, the speaker painted a not implausible picture of how international, regional and domestic legal developments and practice could lead to such recognition. The argument made reference to Article 26 of the Declaration and Article 14 of the International Labour Organization Convention 169 as recognizing indigenous peoples' right to own and enjoy traditional lands; a key decision of the Inter-American Court of Human Rights in relation to indigenous rights under the American Convention on Human Rights (see also: Mayagna (Sumo) Awas Tingni Community v. Nicaragua [PDF]); and recognition of the right to self-determination of all peoples in Common Article 1 of the International Covenant on Civil and Political Rights and the International Covenant on Economic, Social and Cultural Rights.
This speaker decried the disparity between this dream of a global rule of law that recognized FPIC, and domestic law and practice, and suggested that sometimes governments, by taking a narrow view of the risk of indigenous litigation reshaping the constitutional landscape, may over promise what can be delivered to investors in the resource sector.  The example of the decision of the Supreme Court of Canada in Tsilhqot'in Nation v. British Columbia, 2014 SCC 44 (CanLII) was cited to illustrate how a government could be mistaken about its right to sell timber leases on lands subject to aboriginal title claims. This raised an interesting question about whether states trying to encourage inward investment accurately communicate the degree of risk associated with investing in resource projects on lands subject to aboriginal title claims. If they do not, and instead promise streamlined approval processes based on a narrow view of domestic law and a conservative view of how the courts will interpret domestic and international law, might they expose themselves to the risk of investor complaints when projects get stalled due to inadequate consultation?
Foreign investors, advised by their lawyers and risk management specialists, should be evaluating how to establish and sustain their resource projects, and this may well entail going beyond the streamlined government approval processes and engaging directly with the indigenous community's expectations of free, prior and informed consent. First Peoples Worldwide has analysed the risk faced by corporations operating on indigenous lands and found that corporations with robust policies on how to engage with indigenous peoples were able to mitigate risks even in states with poor governance. Corporations without such policies were exposed to a much greater extent to the risks inherent in working in states with poor governance. Workshop participants heard of hard lessons learned through inadequate consultation, as well as ongoing success stories won through early and effective relationship development, capacity building among both industry and indigenous stakeholders, establishment of community development foundations, community mapping and aboriginal participation in the resource industry value chains. An interesting question arose as to whether the resource industry best practice of negotiating with the affected indigenous community to obtain the social license to operate is contributing to the development of this aspirational global rule of law.
Networks of expertise are helping to spread best practices and support capacity building in the extractive industry and indigenous communities. A number of Canadian organizations were highlighted: the Aboriginal Affairs Program of the Prospectors & Developers Association of Canada, Circle for Aboriginal Relations (CFAR Society), and the Canadian Council of Aboriginal Business.  As well, there were impressive examples of effective engagement with aboriginal communities involving corporations that had learned from their earlier mistakes. A common theme was that relationships must be personal and need time to develop, and there is no template solution that will work with every community. The meeting confirmed that the Americas — with their wealth of indigenous communities, rich endowment of natural resources and globally active extractive and oil and gas industries — are a perfect testing ground in which to compare how well domestic laws are addressing this issue, while developing and refining best practices for corporate engagement with indigenous communities that are consistent with the aspiration for a global rule of law of free, prior and informed consent.
---
[1] Article 11(2) states, "States shall provide redress through effective mechanisms, which may include restitution, developed in conjunction with indigenous peoples, with respect to their cultural, intellectual, religious and spiritual property taken without their free, prior and informed consent or in violation of their laws, traditions and customs." See also Articles 10, 19, 28 and 29.