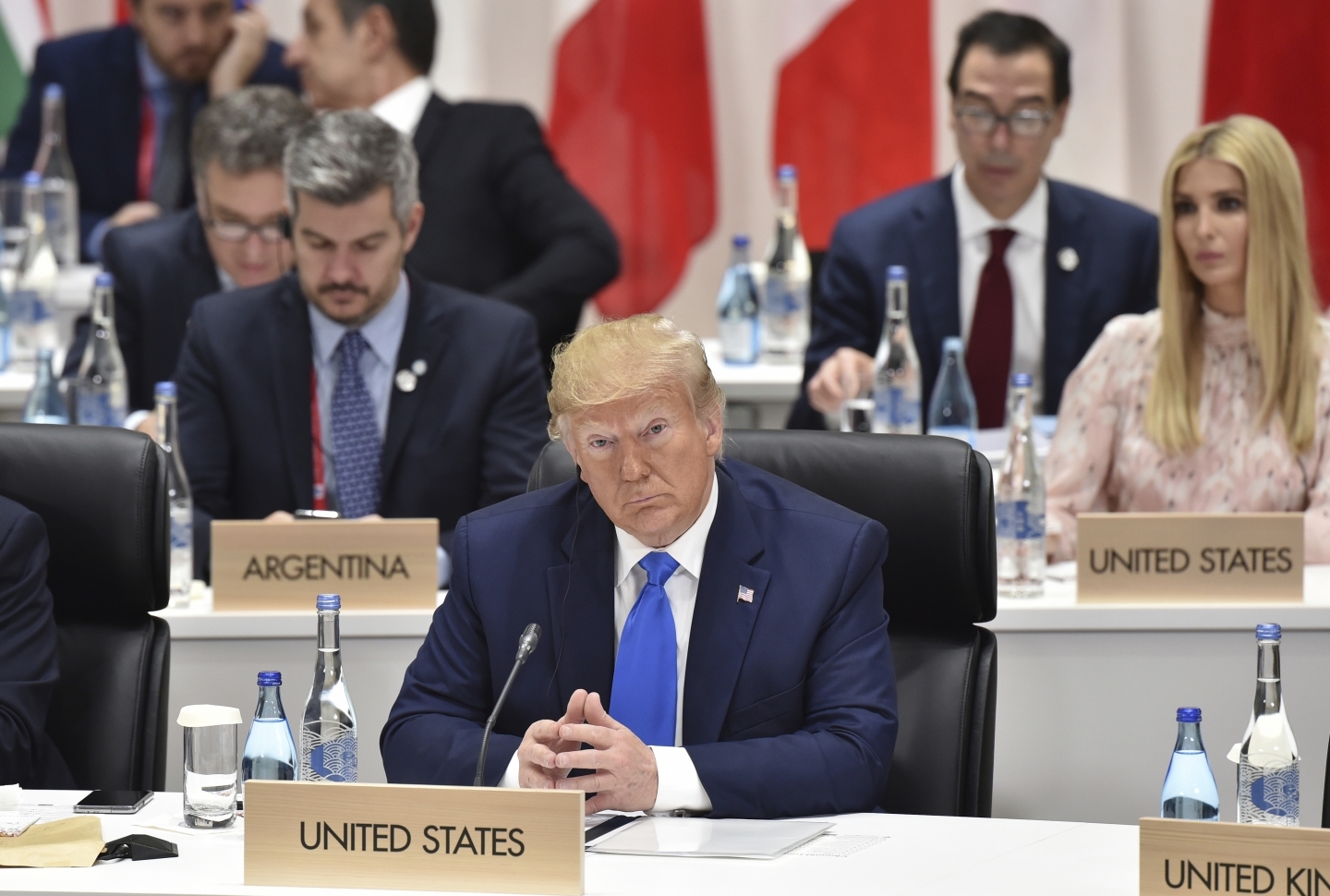 It's Donald Trump's world, and with the possible exception of Xi Jinping, the rest of us are merely living in it. 
That's the only conclusion to draw from the coverage of the Osaka Group of Twenty (G20) Summit, at which the US president reduced an assembly of the world's most important leaders to a sideshow for his meeting with China's leader over their trade dispute. Little attention was paid to the actual G20 agenda before, during or after. Trump and Xi negotiated a "truce" that avoids any escalation of the trade war, for now, and China agreed to buy "large amounts" of US farm products, according to Trump. Stock markets rallied, even though tariffs on goods worth hundreds of millions of dollars will remain in place indefinitely. 
"Congratulations to Prime Minister Abe of Japan for hosting such a fantastic and well run G-20," Trump tweeted. "There wasn't a thing that was missing or a mistake that was made. PERFECT! The people of Japan must be very proud of their Prime Minister."  
When Henry Paulson, the former chief executive of Goldman Sachs Group Inc., joined President George W. Bush's administration in July 2006 as Treasury secretary, one of the first things he did was create the U.S.-China Strategic Economic Dialogue, envisioned as a regular meeting between leading officials from the two biggest economies. Journalists soon started calling these "G2" meetings. Group of Two, or G2, rolled off the tongue easier than "the SED." It also nicely described Paulson's preference for working directly with China rather than engaging through the Group of Seven or the G20, which operated solely as a second-tier forum for finance ministers and central bank governors at the time. 
Paulson would eventually turn to the G20 for help in dealing with the financial crisis; Bush convened the first summit in Washington near the end of his presidency in 2008. President Barack Obama hosted the third gathering the following year in Pittsburgh, at which the group appointed itself the premier council for global economic coordination.  
Trump has now demonstrated that he sees the G20 as little more than a staging ground for his circus-like approach to international diplomacy.
As Thomas Bernes, a former senior Canadian finance official and a distinguished fellow at the Centre for International Governance Innovation, observed on the eve of the Osaka summit, Trump has sapped the G20 of the energy and cooperative spirit it had at its beginning. Even as it got harder to agree on how to approach the Great Recession's aftermath, leaders still agreed that they should resist the lure of protectionism. That pledge is now gone at the behest of the Trump administration, which sees tariffs and sanctions as a means to force its will on weaker partners. In Osaka, leaders said in the communiqué that they will "work to ensure a level playing field to foster an enabling business environment."