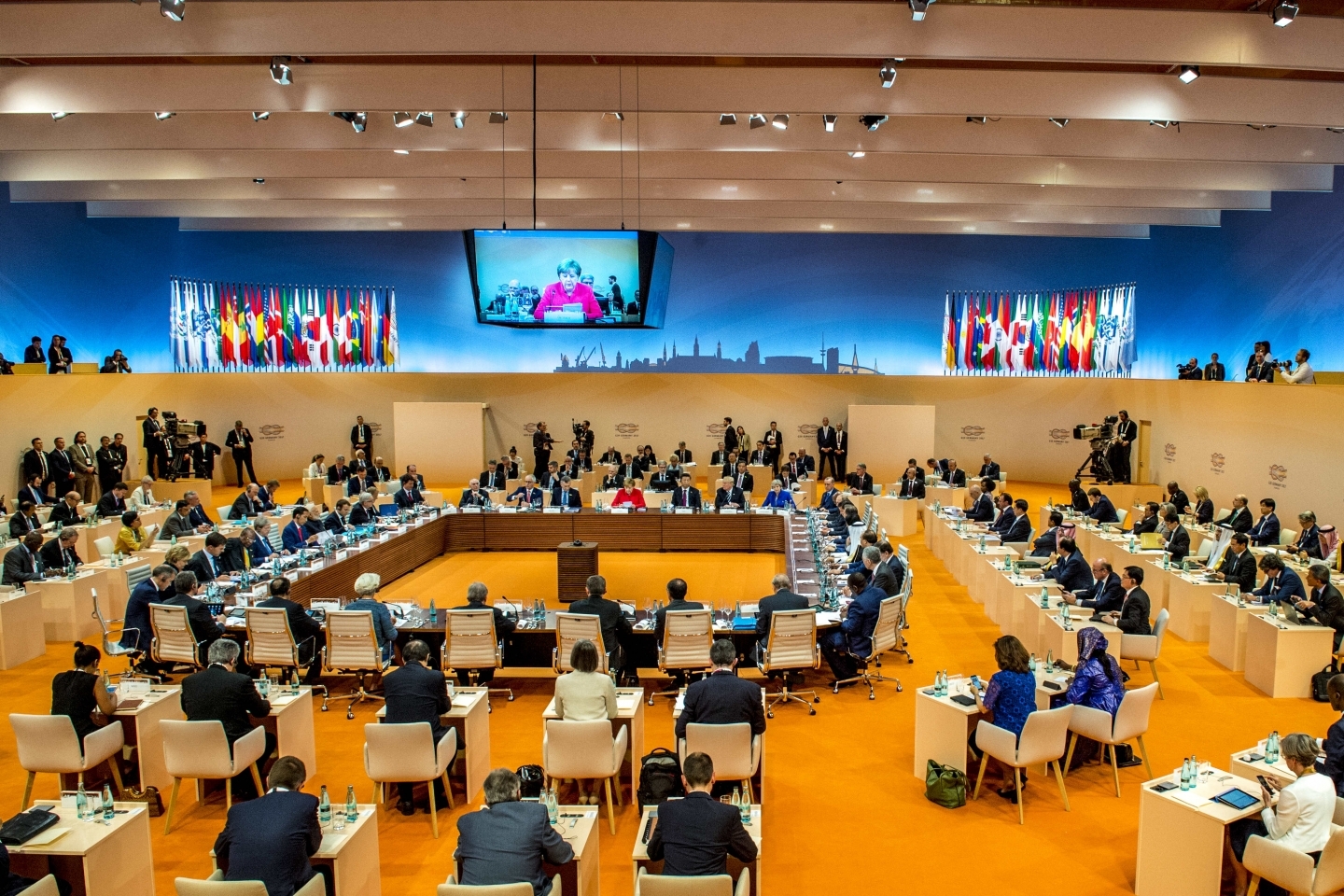 CIGI holds a long history of involvement in and influence on major summits and institutions. In 2017, this involvement was largely dedicated to the International Monetary Fund (IMF) Spring Meetings in Washington, DC, and the Group of Twenty (G20) Summit in Hamburg, Germany.
To make sense of these complex, influential summits and the major global governance moments they presented, explore some of the research and analysis CIGI fellows developed in 2017.
Publications
Trump and the IMF
In contrast to US President Donald Trump's tumultuous relationships with international institutions, interactions with the IMF have been rather calm — even friendly at times. There has been no talk of cutting funding to the IMF, no threat of pulling out of the organization, no statements casting aspersions on the IMF and no "tweet storms" on specific events involving the IMF. In this policy brief, Senior Fellow Susan Schadler discusses the IMF's unexpected escape from Trump's antagonism.
The G20 and Building Global Governance for "Climate Refugees"
The global governance of displaced and trapped populations, forced migration and refugees is not prepared for the numbers likely to manifest under climate change. In this policy brief, Senior Fellow R. Andreas Kraemer argues that the G20 has a responsibility to prepare, push for reform and initiate annual reviews to enhance humanitarian responses to aid climate mobility.
A G20 Infrastructure Investment Program to Strengthen Global Productivity and Output Growth
According to Distinguished Fellow Malcolm D. Knight, long-term global growth of productivity and output capacity is reliant on the modernization and expansion of the international network of basic infrastructure. In this paper, he outlines the key policy elements that are needed in each G20 country to design and implement a successful National Infrastructure Investment Program, and the leadership role that the G20 should play in carrying it out.
Opinions
IMF Treads Water as G20 Awaits Clear Signals from US
While little progress was made at the 2017 IMF Spring Meetings, many felt relief that the conference hadn't gone off the rails. In this article, Distinguished Fellow Thomas A. Bernes describes how President Trump's shadow loomed over the meetings and instigated an ambiguous communique backpedalling on a pledge to fight protectionism. According to Bernes, the group's mood reflected their questions around global economic leadership and set the stage for the G20 summit that would follow.
The G20 and the End of the American Century
Rarely in history are epoch-making moments so clearly discernible. But Senior Fellow James A. Haley argues that one may have been witnessed at the G20 summit in Hamburg, Germany, where President Trump left the meeting increasingly isolated from the other leaders. In this article, Haley explores Trump's trend toward irrelevance and how his presence in global governance could eventually be viewed as the end of the "American century."
What to Look for as Argentina Takes over as Chair of G20
Argentina's President Mauricio Macri holds a unique position in his presidency of the 2018 G20 summit in Buenos Aires. Senior Fellow Martin Guzman explains how Argentina's long history of economic and social crises will impact their G20 agenda and their ability to push for international cooperation, which could bring significant improvements to the workings of globalization.
Multimedia
How Crisis Has Shaped the IMF
The IMF was forged in a fire of financial meltdowns, from debt emergencies in emerging markets to midnight rescues in the euro zone. In this video, Harold James, a CIGI senior fellow and the IMF's official historian, explains how the IMF — a cooperative that exists to give credit to members in their hour of need — remains unique and relevant in today's uncertain world.
The Crisis the IMF Never Saw Coming
The IMF was caught off guard and left scrambling when the euro-zone crisis struck. In this video, Senior Fellow Paul Blustein and Senior Research Associate Samantha St. Amand give a behind-the-scenes look at how the fund battled with strong-willed European leaders over the path to stability.
How the G20 Can Lead Us to a Low Carbon Economy
At the 2017 G20 summit, climate was a major agenda item following President Trump's dramatic withdrawal from the Paris Agreement earlier in the year. In this podcast, Céline Bak, a CIGI senior fellow and co-chair of the Think Tank Twenty taskforce on climate policy and finance, discusses with former CBC and BBC Radio host Mary Ambrose how the G20 holds a critical role in charting the path toward a low carbon economy.