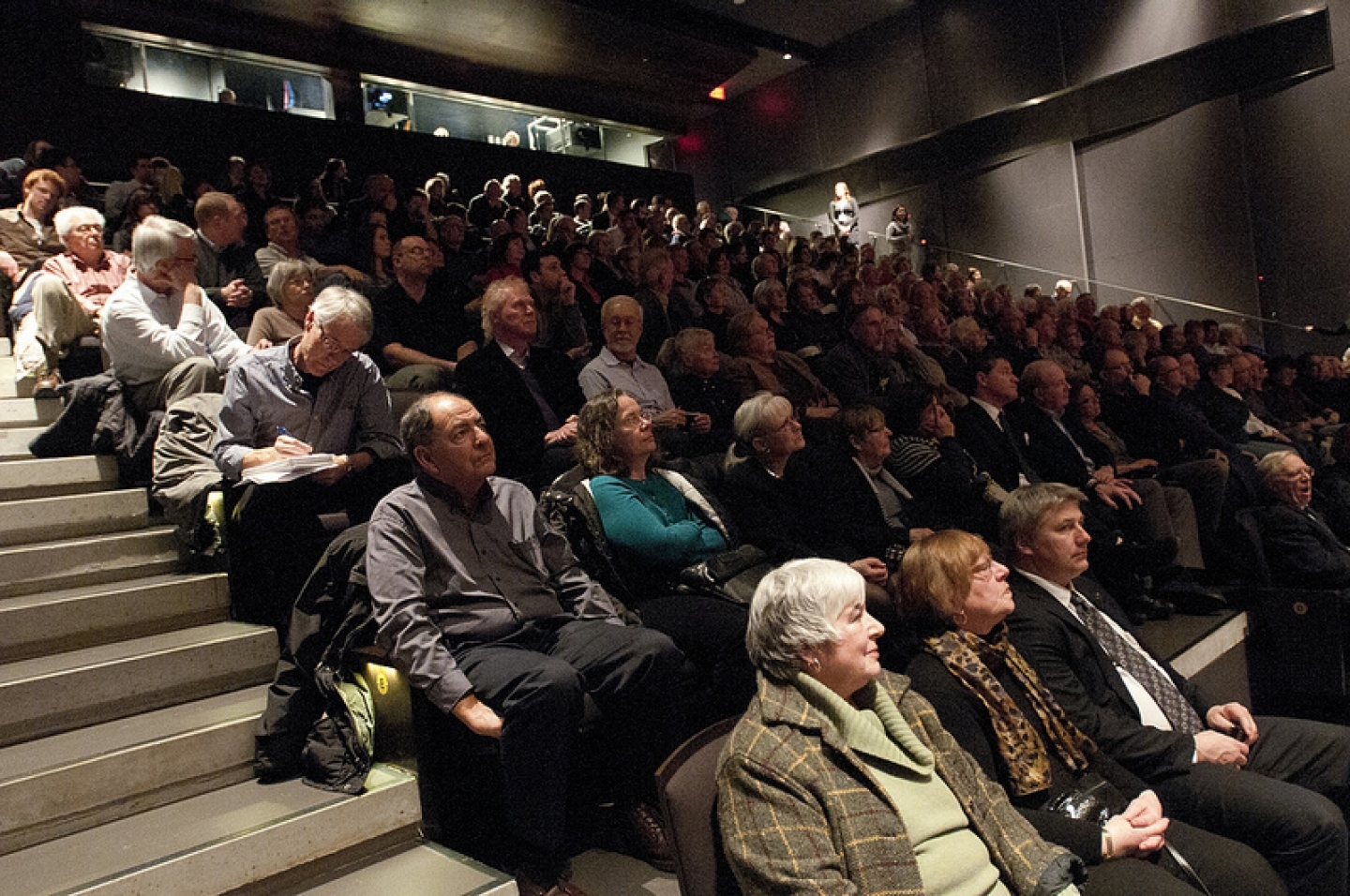 Spring is a busy season, bursting with renewal and new energy.  At CIGI, we've been engaged in a whirlwind of activity at home and abroad, to advance the agenda on international governance.
In Berlin, CIGI attended and co-sponsored an April conference called "Paradigm Lost: Rethinking Economics and Politics." Held by the Institute for New Economic Thinking (INET), this event convened 300 scholars, students, journalists, and policy makers in the eye of the European economic hurricane to reconsider conventional economic thinking.  Video highlights are posted at CIGI's website.
In Mexico City, CIGI joined in an April conference called "Strengthening the Financial Sustainability Board."  The primary objective was to foster a fruitful exchange of ideas among members of the FSB Working Group on Governance and Resources, senior FSB Plenary and G20 members and academic experts.  Co-sponsored by CIGI, Banco de Mexico, Bank of Canada and CIGI, this event was attended by CIGI's Jim Haley, Director of the Global Economy Program, and Badye Essid, Economist.
In April, we attended — as always — the International Studies Association (ISA) conference, held this year San Diego. It's among the largest academic conferences in the world, with more than 5,000 scholars delivering research on global affairs.  CIGI Fellows and Chairs presented on a wide range of topics, including emerging powers in climate change negotiations (Kathryn Hochstetler, CIGI Chair of Governance in the Americas) and  Canada's resource capitalism (Jennifer Clapp, CIGI Chair in Global Environmental Governance).  CIGI co-hosted a networking reception for select ISA attendees with Canada's Department of Foreign Affairs and International Trade, and maintained a booth in the exhibit hall for interested visitors.
Also in April, CIGI and other organizations co-hosted "Post-2015 Development Goals: Designing Targets and Indicators," at OECD headquarters in Paris. The meeting focused on determining targets and indicators for potential successor goals to the UN Millennium Development Goals. Attendees included CIGI Senior Fellow Barry Carin, who is leading a CIGI project on Post-2015 development goals.
At home in Waterloo, CIGI runs a series of public lectures at our splendid new auditorium. No worries if you live elsewhere: we live-webcast all of these events — you can sign up for free at our online Events page.  And even if you miss the webcast, you can enjoy the events later, by watching the videos we post online.  Some of the recent and upcoming entries in the CIGI Signature Lecture Series:
April 11 – "Iran and the West: A Dialogue of Ambassadors."  Guest speakers former US Ambassador Thomas Pickering and Iranian Ambassador Hossein Mousavian debated the issue of Iran's role in international relations, and how to deal constructively and realistically with Iran's evident determination to achieve a nuclear weapons capability. CIGI Chair James Blight and his colleague and spouse janet Lang moderated.   
May 24 – "The Responsibility to Protect and the Arab Spring." Lloyd Axworthy, president of the University of Winnipeg and a past Canadian minister of foreign affairs, looks at how events of the past year have affected the application of the R2P doctrine, and implications are for the future.  CIGI Senior Fellow Bessma Momani will moderate this event, co-sponsored by the Balsillie School of International Affairs.
May 30 – "Bordered Biases: National Identity in World News Coverage."  A panel of distinguished Canadian journalists — all with significant international experience — will discuss how news coverage is shaped in part by the national identity of both the audience and the reporters. Participants include The Toronto Star's Mitch Potter, The Globe and Mail's Kevin Carmichael, Ryerson University's Tony Burman (founding managing editor of Al Jazeera English and a former CBC correspondent), and Diana Swain of CBC News. Moderated by Steve Paikin, anchor of TVO's The Agenda, the panel is co-sponsored by the Canadian International Council Waterloo Region chapter.
We're continuing our series of Brookings-CIGI Seminars in Washington — April's session was on "the G20 Mutual Assessment Process: Policy Challenges, Peer Review Pressures and IMF Role."
Lots of other CIGI activity, just around the next corner.  We are participating in the May 26 to June 2 annual Congress of the Canadian Federation for the Humanities and Social Sciences (held conveniently in Waterloo). If you're in Waterloo for this conference, be sure to visit the CIGI booth.
CIGI will also be attending the G20 Summit in Los Cabos, Mexico, June 17–19.  Our experts will be on site at the International Media Centre, analyzing the event for CIGI's website, and providing expert commentary and insights to more than 1,000 international media covering the event.
We'll be present at the annual conference of the Academic Council on the United Nations System (ACUNS) in New York City in June, promoting, among other publications, a new paper by CIGI Distinguished Fellow Louise Frechette on UN peacekeeping.
And we're planning for a major launch in June (with planned events in Vienna, London, Washington and Waterloo) of a report by CIGI Senior Fellow Trevor Findlay – a culmination of his two-year review of the International Atomic Energy Agency.
Amid all this hustle and bustle, we're also undergoing a transition in leadership, as outgoing Executive Director Thomas A. Bernes becomes a CIGI Distinguished Fellow, to be succeeded in the executive role by incoming President Rohinton Medhora.
Oh, there's lots more happening at CIGI.  But this account is in danger of going past decent blogging length.
Suffice to say, it's the spring rush and CIGI's in the fast lane. Keep those seatbelts fastened! 
At CIGI, we've been engaged in a whirlwind of activity at home and abroad, to advance the agenda on international governance.