The Centre for International Governance Innovation and Sanctuary Refugee Health Centre are pleased to welcome Jean-Nicolas Beuze, current UNHCR (United Nations High Commissioner for Refugees) representative to Canada as he discusses the unmet health care needs of refugees. He will be joined in discussion by Dr. Michael Stephenson, founder, director and chief physician of Sanctuary Refugee Health Centre in Kitchener.
Event Speakers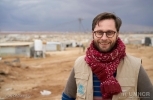 Jean-Nicolas Beuze worked for more than 20 years with the United Nations in the areas of Human Rights (OHCHR), Peacekeeping (DPKO) and UNICEF at Headquarters and in the field (Cameroon, Democratic Republic of Congo, Uganda, Afghanistan and the Middle-East and North Africa region) before joining UNHCR in Lebanon as Deputy Representative for Protection and Inter-Agency Coordination. Prior to joining UNHCR, he was the UNICEF Child Protection Advisor for the MENA region (2010-13) working on emergency responses in Iraq, Libya, Sudan, Syria and Yemen, and strengthening public child protection and education systems in the region. He was previously appointed as the Deputy Director of the Human Rights Unit of UN Peace-Keeping/DPKO mission in Afghanistan/UNAMA (2008-10) focusing on women's rights, elections, poverty and the protection of civilians. He previously worked as a Research Director in a human rights think-tank (International Council on Human Rights Policy) on issues of peace agreements, transitional justice, national human rights institutions and the reform of the UN human rights system. Jean-Nicolas Beuze holds a LL.M in international human rights law from Essex University, UK, and a Master in international relations from the Graduate Institute of International Relations, Geneva/Switzerland.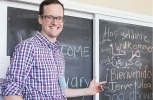 Dr. Michael Stephenson is the founder and director of Sanctuary Refugee Health Centre. He has dedicated his career to refugee health since he began his residency in 2006. Doctor Mike started SRHC with six patients in April 2013, and has worked tirelessly to grow the clinic to more than 3300 patients and dozens of staff and volunteers today. His work has been recognized with a Kitchener Mayor's City Builder Award in 2016 and a Council Award from the College of Physicians and Surgeons in Ontario in 2017. "Dr. Mike" was born and raised in Ottawa.  He graduated with a BSc in Biology from the University of Guelph in 2002 and his MD from Queen's University in 2006.  He completed his residency in Family Medicine at McGill University in 2009.  He worked with the Access Alliance Multicultural Health and Community Centre in Toronto, moving to Waterloo in 2012 and taking up practice as a Family Physician with the Woolwich Community Health Centre in St. Jacobs simultaneously starting Sanctuary Refugee Health Centre which is now more than a full time commitment.