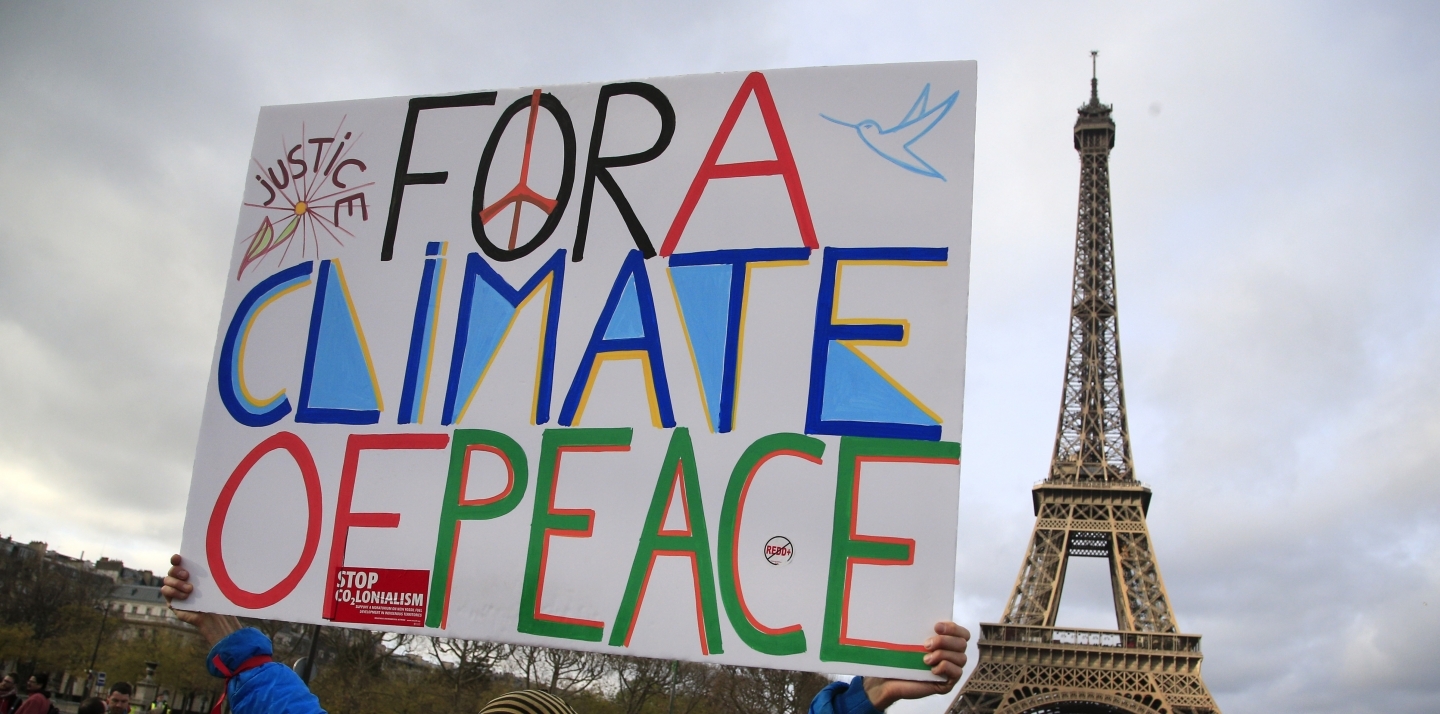 Introduction from Oonagh Fitzgerald, Director, International Law Research Program (ILRP)
On April 22, more than a 130 States and at least 60 Heads of State, including Canada's Prime Minister Justin Trudeau, are expected to meet in New York to sign the Paris Agreement on Climate Change. CIGI's International Law Research Program (ILRP) is celebrating this historic moment by pledging our commitment as members of global civil society to contribute our international legal policy research and leadership skills to address climate change at the local, provincial, federal, regional and international level.
The Paris Agreement is a masterpiece of nudge diplomacy, uniting developed and developing countries under a banner of equity, sustainability and solidarity to work individually and collectively to share financial resources, knowledge, technology and know-how with the global goal of keeping average temperatures below 2 degrees Celsius above pre-industrial levels and as close to 1.5 degree Celsius as possible, and making a rapid transition to a global no carbon economy. To implement the Agreement requires numerous governance structures and legal frameworks at the international and domestic level.  To mark the signing of the Agreement, CIGI ILRP fellows share their insights on how to accelerate climate action under the Paris Agreement and beyond.
 
---

On Human Rights and Indigenous People
Earth Day 2016 marks a historic occasion: the signing of the Paris Agreement in New York, the culmination of 21 years of international negotiation and UNFCCC process. I applaud the commitments of the Agreement, which are a great step forward in the race against catastrophic climate change.
But scientists say that under the current INDCs the global average temperature will soar by 3.7 degrees Celsius above pre-industrial levels by 2100. This is far above the 1.5 degree Celsius target, which, as President Hollande stated at the opening of COP21 in Paris, is the 'absolute ceiling' for global temperature rise if we are to prevent climate catastrophe. Anything above 1.5 degrees is a death sentence for us and for the planet. We have now arrived at the tipping point. There is no more time for prevarication, or delay. The time is now, and there is no Plan B.
In order for the Paris Agreement to keep the warming of the world below the 1.5 degree Celsius target governments must commit to reducing CO2 emissions 'in accordance with best available science.' They must embark upon a renewable energy revolution. They must commit to halt the burning of fossil fuels, which have already formed a toxic 'blanket' around the earth - they must 'leave it in the ground.' They must preserve the forests - between now and 2020 alone, we stand to lose 1,460,000,000 acres of tropical forest and 273,750 species.
I am concerned by the lack of legally binding language to protect the rights of indigenous peoples, who have time and again been proven the best custodians of ecosystems, including forests. Similarly, Article 7.5 of the Paris Agreement advises a "gender-responsive approach" to climate change - but the language is weak and non-binding. We cannot combat climate change without involving all stakeholders, including indigenous people and women, and their rights should have been at the heart of the Paris Agreement.
Bianca Jagger, CIGI Senior Fellow, ILRP
On Climate Change Technology
Access to climate change technology and its transfer is a key component of the fight against climate change mitigation and adaptation. The Paris Agreement established a Technology Mechanism to elaborate guidance on the preparation of technology action plans to implement the agreement outcomes. The Conference of the Parties also recognized the need for elaborating mutual linkages between the Technology Mechanism and the Green Climate Fund to ensure financial resources for technology development and transfer.
Bassem Awad, Deputy Director, Intellectual Property and Innovation, ILRP
On Human Rights and Climate Change
That the Paris Agreement only referred directly to human rights in its preamble left much to be desired especially for those who had campaigned for its inclusion in the main operative sections. While this may be disappointing, it is still an important step for integrating human rights in climate change activities. Looking beyond the Paris Agreement, advocacy has to shift to the domestic level. States parties must now ensure that climate-related activities undertaken by them or other entities within their spheres of authority include clear human rights safeguards.
Basil Ugochukwu, CIGI Post-Doctoral Fellow, ILRP
On Treaty Negotiations and Indigenous People
The only reference to Indigenous rights in the Paris Agreement is found in the aspirational language of its preamble, rather than in the operative text. However, Canada's advocacy for the recognition of Indigenous rights during the negotiation of the Paris Agreement was encouraging. Canada can continue to show global leadership on Indigenous rights through the active engagement of its Indigenous people in the development of a national climate change plan that respects Aboriginal and treaty rights.
Risa Schwartz, CIGI Senior Research Fellow, ILRP
On Corporations and Climate Change
While the signing of the Paris Agreement by States on Earth Day 2016 marks a historic moment, realization of the global goal of 1.5 degrees will only be possible if the private sector commits to doing its part without waiting for State ratification, implementation, and ultimately ratcheting up of INDCs. It is well accepted that the negative impacts of climate change affect the enjoyment of human rights of people throughout the world, with disproportionate impacts on the most vulnerable. Businesses, including financial institutions, are organs of society and human rights duty-bearers with a responsibility to do no harm, and so must proactively integrate climate mitigation into all decision-making if the goals of the Paris Agreement are to be achieved.
Sara Seck, CIGI Senior Fellow, ILRP
On Climate Litigation
The Paris Agreement is a victory for diplomacy but unfortunately has not resulted in the enforceable emissions reduction targets needed to actually keep us well below the two-degree objective established in the agreement. However, as several recent successes in climate litigation around the globe are hinting, domestic laws may well entail a legal obligation on states to bring national climate policies in line with this global (well below) two-degree objective. These are first signals that from a governance perspective, the solution to the climate problem may well be found at the intersection of international law and domestic law.
Roger Cox, CIGI Senior Fellow, ILRP
On Climate Loss and Damage
As the globe's temperature continues to rise, climate loss and damage will become increasingly problematic. The Paris Agreement resolves a two-decade dispute by most developed countries regarding their role to address loss and damage that will be particularly suffered by vulnerable countries and communities.  Wording in the Paris COP Decision allows developed countries to take steps and contribute funds to address loss and damage without concern this implies developed countries have a legal obligation to do so under the UNFCCC. The Agreement also gives the Warsaw International Mechanism (WIM) – created on a temporary basis in 2013 at COP 19 to consider concepts and means for dealing with loss and damage– a more permanent and a more enhanced mandate to deal with these issues.  While both of these are positive developments, no specific funding for loss and damage was allocated under the Paris Agreement.  Finding and allocating sufficient and innovative public and private sources of funding to address what will be the increasingly severe human and ecological impacts of climate loss and damage must be at the focus of COP 22 in Marrakesh.   The Agreement also mandated the WIM to develop integrated approaches to address climate related human displacement.
David Estrin, CIGI Senior Research Fellow, ILRP
On Carbon Policy
The Paris Agreement was the outcome of unprecedented consensus on tackling climate change. Market mechanisms must now capture this momentum to induce changes in production processes and consumers' purchasing behaviour. To gravitate away from carbon intensive products, some government intervention is necessary. Parties to the Paris Agreement or governments can adopt carbon pricing mechanisms and also assist renewable energy markets to share greater parts of the global energy grid in a WTO compatible way. The ratification of the Paris Agreement provides another opportunity for governments to renew their commitment to tackling climate change by adopting concrete legislative action. 
Maria Panezi, CIGI Post-Doctoral Fellow, ILRP
On Common but Differentiated Responsibilities
The fact that more than 150 countries in various stages of development will sign the Paris Agreement today shows that they were able to overcome a long lasting dispute between developed and developing countries over how to better reflect the principle of common but differentiated responsibilities and capabilities (CBDR) in the climate regime post 2020. The Agreement officially abolishes the contested rigid old division between developed and developing countries in terms of climate obligations. This was a win for developed countries that wanted to ensure large developing emitters like China and India would assume their share of responsibility in reducing emissions. Developing countries succeeded in including clear references to their development needs and priorities, and references to the required leadership of developed countries in climate action and finance to reflect their historic responsibility for accumulated emissions and their greater capability.
Patrícia Galvão Ferreira, CIGI Post-Doctoral Fellow, ILRP
On Geoengineering
While the Paris Agreement does not directly address geoengineering, the implications of a 1.5 or even 2 Celsius degree goal is that achieving this goal is likely to require negative emissions in the form of carbon dioxide removal and possibly solar radiation management. Recognizing that waiting for dramatic technological breakthroughs for advancing a low or no carbon economy involves considerable risk, policymakers must now begin to take the potential necessity of geoengineering seriously, including developing policy options for funding and governing scientific (and social scientific) research on a constellation of geoengineering technologies. Creating a democratically responsive and evidence-based governance environment for geoengineering research will be a crucial short to mid-term challenge for an already crowded climate agenda.
Neil Craik, CIGI Senior Fellow, ILRP
On Geoengineering
Nearly all of the scenarios in the IPCC's latest assessment report that hold temperatures to below 2C below pre-industrial levels contemplate large-scale deployment of so-called carbon dioxide removal approaches. These options fall more broadly under the rubric of "climate geoengineering." The most favored option by the IPCC, Bioenergy and Carbon Capture and Sequestration (BECCS), not only faces serious technical and economic questions, but may also have socio-economic ramifications, including diverting land from agricultural production, which could imperil food security vulnerable populations, and threatening land-grabs, including from indigenous peoples.
Wil Burns, CIGI Senior Fellow, ILRP
On Climate Change Access to Information
The Paris Agreement recognized the importance of climate change education, training, public awareness, public participation and public access to information. This is an essential step to fight against climate change because many people in the world are not even aware of it, especially from developing countries. Looking beyond the Paris Agreement, awareness campaigns could be the first step in this area, but governments should also provide means for people to discuss the different issues related to climate change, such as mitigation, adaptation, loss and damage, as well as the obligation of all schools to teach the environmental issue using an interdisciplinary approach.
Ana Cristina Carvalho, CIGI Post-Doctoral Fellow, ILRP