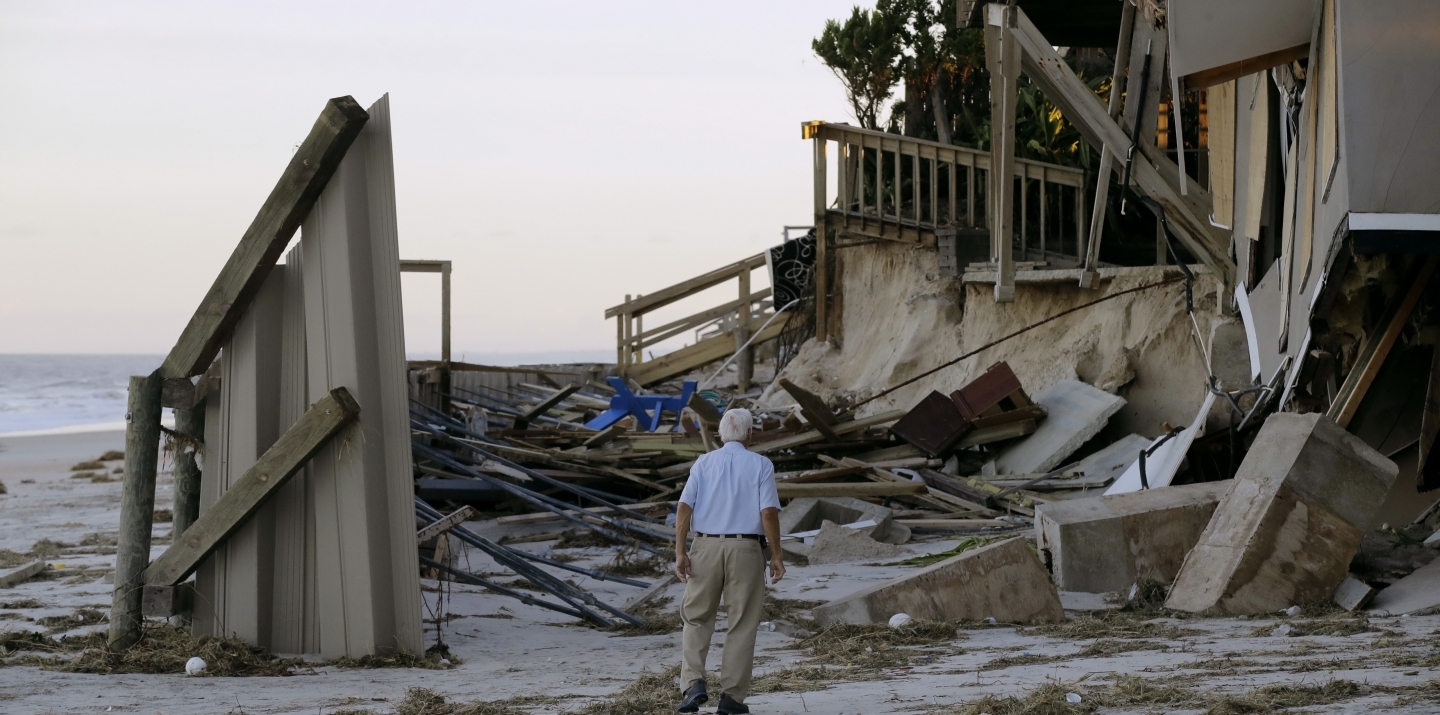 Keith W. Rizzardi is an Associate Professor of Law at St. Thomas University near Miami, Florida.
The models were scary.  The Atlantic coast of Florida, and much of the southeast, feared a direct hit by Hurricane Matthew, a powerful Category 4 storm depicted by satellite images as death in motion.   In Haiti, the hurricane killed more than 900 people, and left about 350,000 in need of humanitarian assistance, according to the UN.  In Florida, relying upon the computer models of the storm's path, emergency officials issued dire warnings.  "Evacuate, evacuate, evacuate" said Florida Governor Rick Scott.  "We cannot save you," said the Daytona Beach Chief of Police.  With maps clearly showing the properties vulnerable to storm surges, people abandoned their homes for higher ground.  These events all offered a glimpse into our climate-changed future.
Hurricane Matthew turned out rough enough for coastal places along the U.S. seaboard, causing record-breaking flooding and power outages from St. Augustine, to the Carolinas to Coastal Virginia, as reports of casualties trickled in. It could have been far worse for places like Florida, had the storm not taken an unexpected turn to sea.  Yet along the way, we saw the capability and ingenuity of human will.  Facing their fears, people prepared for Hurricane Matthew's wrath.  Neighbours helped one another shutter their homes and stocked supplies.  Communities placed sandbags and opened shelters.  Creative thinkers parked cars in their living rooms. 
For climate thinkers, there are so many lessons to learn.  The courage shown by communities bracing for Hurricane Matthew must extend to climate change, too. Hurricane Matthew can become the siren for change that Superstorm Sandy became for New York City.  State and local governments should re-assess the vulnerability of their coastal communities, and develop their own plans for resilient neighborhoods.  A difficult dialogue must begin, and people must contemplate not only the risks of tropical weather, but also the longer-term, well-documented and permanent risk of sea level rise.
To begin the conversation, we must accept the science.  In Florida, state leaders and decision makers in Tallahassee act on hurricane models.  But those same leaders ignore the high quality modelling and evidence gathered by the National Climate Assessment and the South Florida Regional Climate Change Compact, and there is no statewide plan for Florida to face the rising seas.  The hypocrisy is indefensible.  The lowest lying coastal communities affected by Hurricane Matthew's short term storm surges are the same ones threatened by long term sea level rise.  The non-coastal counties and communities whose surging rivers reduced drainage and triggered inland flood warnings saw their future.  Ignoring the obvious consequences of sea level rise in these low-lying areas is akin to refusing to issue evacuation orders before the incoming hurricane.
Once the science is understood, options can be explored.  Developing resilience to climate change requires taking action before the disasters happen.  But State and federal leaders in Florida and the Federal Emergency Management Agency (FEMA) must seriously discuss how to mitigate for the coming hazards.  Currently, even though the risks of rising seas are well known, and the most vulnerable communities are easily identified, FEMA allows states to rely on a short-term five year planning process that may not even mention "climate change".  Policy makers must begin sifting through the hazard mitigation options, by exploring the U.S. Climate Resilience Toolkit and searching for solutions that could work in their communities. 
Eventually, hard choices will be made, and solutions will be selected.  If funding exists, then engineering solutions may help to protect some built environments.  But some of the areas most vulnerable to, and forced to evacuate from, Hurricane Matthew will need to be permanently abandoned in a climate changed future.  At some point, after assessing the damage, and considering the future, communities will realize that rebuilding may not be an option. Instead, both before and after the hurricanes of the future, property acquisition and relocations for the purpose of open space must be considered. 
Perhaps the hardest lesson that Hurricane Matthew taught is one of scale.  The entire Southeastern Atlantic coast, from Florida to Georgia to the Carolinas to Virginia, suffered through likely the most expensive storm ever.  In the weeks to come, stories will abound about the economic losses, and the limitations of the insurance industry and catastrophe bond markets.   And yet, in the larger context, Hurricane Matthew was just a single storm of regional magnitude.  Comparatively, climate change and rising seas are even more frightening, because humanity must confront a potential catastrophe of global magnitude that may never dissipate. 
Fortunately, the ocean will not instantaneously rise.   Policy makers have the benefit – but not a luxury – of time.  Yet the threat is coming, and like a hurricane, it cannot be ignored.  When it comes to planning for and adapting to sea level rise, tomorrow is now.  Recognizing that the flooding of coastal communities has begun, and further realizing that a frequently flooded coastal community cannot survive, local leaders in Miami Beach, Florida and Tybee Island, Georgia have already adopted sea level rise plans or begun infrastructure changes.  Federal, state and local leaders across the nation must be equally clear-eyed as to the future.  Political willpower must be harnessed, and we can all learn from the emergency operations centers.  The ruthless logic of Hurricane Matthew applies equally to every community facing the long term threats of rising seas: take action or perish.
The courage shown by communities bracing for Hurricane Matthew must extend to climate change, too.