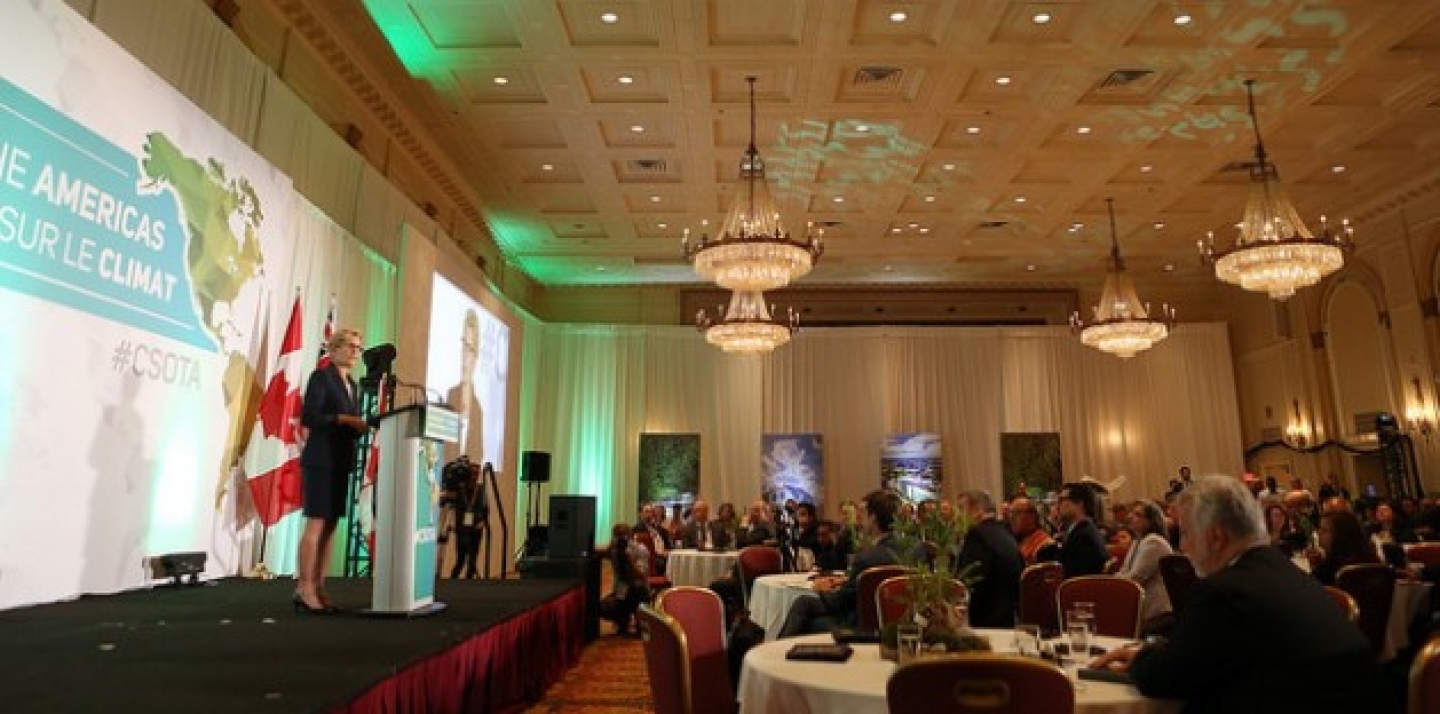 Climate change is a world-engulfing problem for which the expression "think globally, act locally" has particular resonance. While at the international level there is much discussion about equitable burden sharing and common but differentiated responsibilities, there is no escaping the fact that we are in this together and need to cooperate to address climate change.
Just as global warming cannot be contained or excluded by national borders, so too, effective action to combat global warming cannot be contained by national borders. Climate action by any one jurisdiction, whether national or sub-national or even individual, contributes in some way to solving the global problem. In order for the world to make the transition to a low carbon economy states, sub-nationals and individuals will need to increase equality, share prosperity generated through clean technology innovation and strengthen unity of purpose.
This raises interesting, pressing new challenges for the international legal regimes for free trade of goods and services, protection and preservation of the environment and intellectual property protection, all of which are designed around state sovereignty, responsibility of states, and competition between states. To create the low carbon economy we need international, national, sub-national and local policies, incentives and mechanisms to reduce carbon emissions, encourage development and diffusion of clean technology, and measure progress in the collective goal of arresting global warming.
At the Climate Summit of the Americas, organized by the Province of Ontario, attendees heard many examples of how sub-nationals are not waiting for national leadership but are taking decisive action to combat climate change and move to a low carbon economy. A queue of global dignitaries, led by Ontario Premier Wynn and her Minister of the Environment and Climate Change Murray, Quebec Premier Couillard, former US Presidential candidate Al Gore, former Mexican President Calderon, and governors of California, Vermont and Washington, took to the podium to deliver the message that there is great risk in failing to take decisive climate action, that this requires putting a price on carbon, and that there are tremendous business opportunities in fostering green innovation.
In the past few years, there have been experimental initiatives at the international, regional and domestic level to use market mechanisms to combat climate change. These include carbon fees, carbon taxes, green funds, green bonds, and collaborative mechanisms for green innovation. These are still works in progress requiring conscientious effort to ensure they really do work, not just as new business opportunities for traders, but to reduce GHGs and lead us to the low carbon economy.
In order to make the transition to a low carbon global economy, it will be important to reduce barriers to trade in environmental goods and services; to counteract regulatory arbitrage whereby the clean and green efforts of one jurisdiction are nullified by production migrating to low regulation high GHG emitting jurisdictions; and to encourage the transfer and sharing of clean and green technology innovations across borders, especially from developed countries to developing countries.
In the context of climate change discussions intellectual property (IP) rights are sometimes described as a two edged sword: on the one hand, IP rights encourage innovation by giving the inventor the exclusive right to exploit the invention and license its use for a limited period of time; on the other, there is concern that the period of exclusive rights can slow down advances in clean technology at a time when rapid, global diffusion of such technology is essential. However, part of the IP protection deal is that it requires global publication of the invention. This immediately sparks research to replicate and improve on the invention.
The patent system can foster green innovation and promote dissemination of clean technologies on both the national and international stage. The European Patent Office has demonstrated what it calls the Kyoto effect, where we see a massive, hockey stick-like spike in clean tech patenting after 1997. Benoît Battistelli, president of the European Patent Office has argued that patenting is not necessarily a barrier to green technology diffusion and much depends on how patents are mobilized to transfer clean technology. He noted that since the introduction of the Kyoto Protocol there has been a 20% increase every year in green energy sector patents as compared to the average 5% increase in other fields.
CIGI-ILRP is leading research projects on how innovation can be fostered by providing practical and strategic guidance to early stage innovators about the international IP legal system and how to protect inventions while developing and commercializing them in the global market place. The ILRP is also studying international, domestic and private governance mechanisms that encourage clean technology innovation, development and dissemination such as the fast tracking examination process, the patent prosecution highway and patent pools. This research also explores various private sector approaches to encourage the development of green and clean technology innovation (whether intra-company or inter-company).