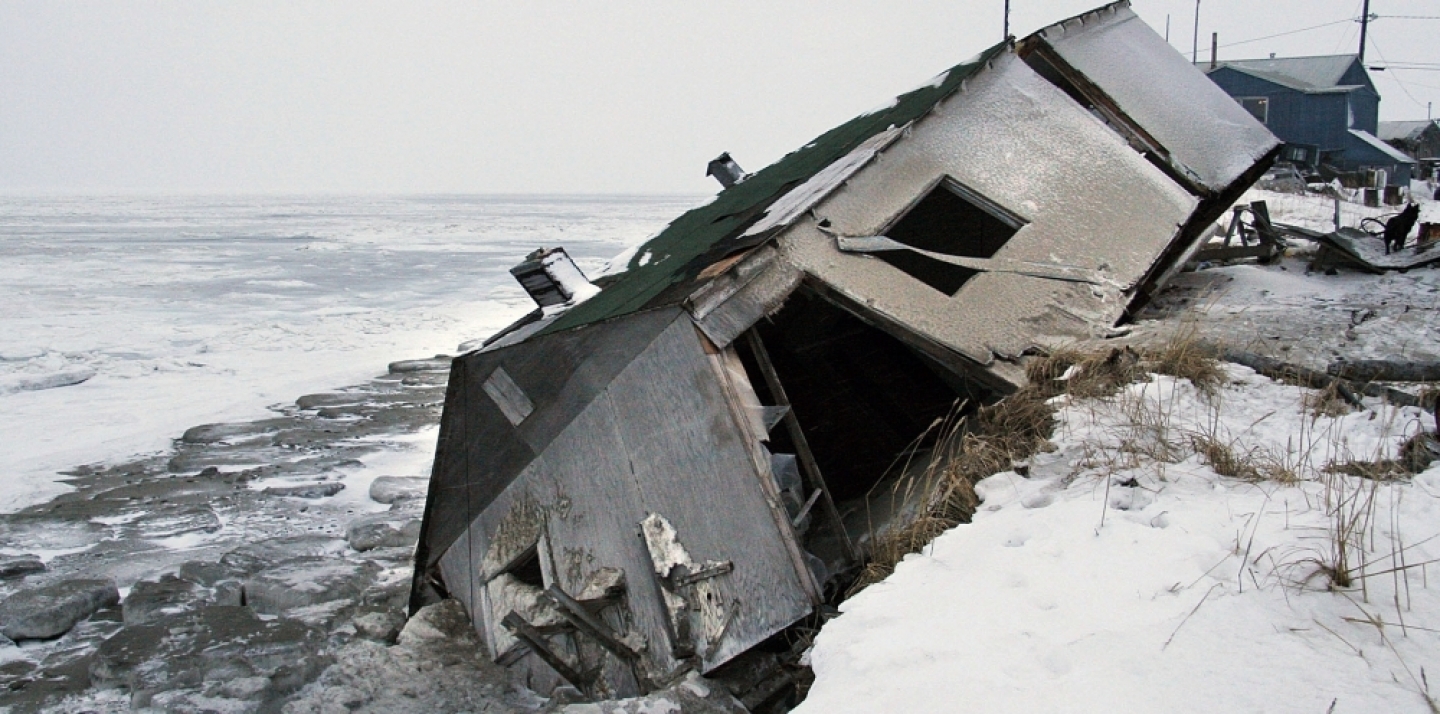 Friday's announcement that the Inupiat village of Shishmaref, Alaska, has voted to relocate to higher ground after losing "2,500 to 3,000 feet of land to coastal erosion" over the past 35 years is a worrying reminder of the impact climate change is already having on our planet.  While many big city dwellers only have to worry about infrequent but catastrophic events, such as the flooding in Calgary and the hurricanes that hit New Orleans and New York, for more remote communities, climate change storm surges and erosion are constantly gnawing at the viability of their traditional way of life.  At least 31 Alaskan communities face existential threats of destruction through flooding and erosion.
The Paris Agreement on Climate Change, adopted last December and signed by 175 countries including the United States of America and Canada but so far only ratified by 22, had communities like Shishmaref in its sights and, indeed, called for urgent action.  It is now urgent to move beyond agreement between states to action on the ground. By virtue of Article 2 of the Agreement, states committed to hold temperature increases below 2 degrees and as close to 1.5 degrees Celsius above pre-industrial levels; to increase capacity "to adapt to the adverse impacts of climate change and foster climate resilience"; and to make "finance flows consistent with a pathway towards low greenhouse gas emissions and climate-resilient development". Article 2 declared that the "Agreement will be implemented to reflect equity and the principle of common but differentiated responsibilities and respective capabilities, in the light of different national circumstances." The Agreement noted that without timely and effective climate mitigation the need for adaptation strategies will only increase.
Article 7 dealing with the global goal of "enhancing adaptive capacity, strengthening resilience and reducing vulnerability to climate change" speaks exactly of the challenges faced by remote indigenous communities like Shishmaref when in subparagraph 5, it provides guidance on how to approach specific adaptation needs: 
Parties acknowledge that adaptation action should follow a country-driven, gender-responsive, participatory and fully transparent approach, taking into consideration vulnerable groups, communities and ecosystems, and should be based on and guided by the best available science and, as appropriate, traditional knowledge, knowledge of indigenous peoples and local knowledge systems, with a view to integrating adaptation into relevant socioeconomic and environmental policies and actions, where appropriate.

The community vote would seem to be responsive to this guidance.  The next step will be seeing how to give effect to the vote in favour of relocation in a manner that best supports the traditional way of life of the Inupiat.  Article 7 of the Agreement calls on States to develop and implement adaptation plans to meet their particular needs, and envisions that financial flows from developed to developing countries will be necessary to address climate mitigation and adaptation. Although Shishmaref, Alaska, is not a wealthy community, it is part of a wealthy nation capable of responding to this issue without the need for foreign aid.  It would be expected that the US federal government and the Alaska state government would contribute to developing effective adaptation plans in concert with the climate affected northern indigenous communities.
The Agreement, in Article 8, also affirms the continuation of the Warsaw International Mechanism for Loss and Damage associated with Climate Change Impacts, thus demonstrating that the international community is acutely aware of the adverse effects of climate change, including extreme weather events and slow onset events. The Warsaw Mechanism's mandate is to enhance understanding and facilitate cooperation on risk assessment, early warning, emergency preparedness, resilience etc., and the accompanying Decision document specifically states that this "does not involve or provide a basis for any liability or compensation".  Thus, while the international community is seized of the big issues of climate change, the local community must act to avert climate-related disaster.
This means that when it comes to taking urgent adaptation measures such as this relocation of Shishmaref, it will be the affected individuals, and local, subnational and national governments who have to take action and pay the costs of adaptation.