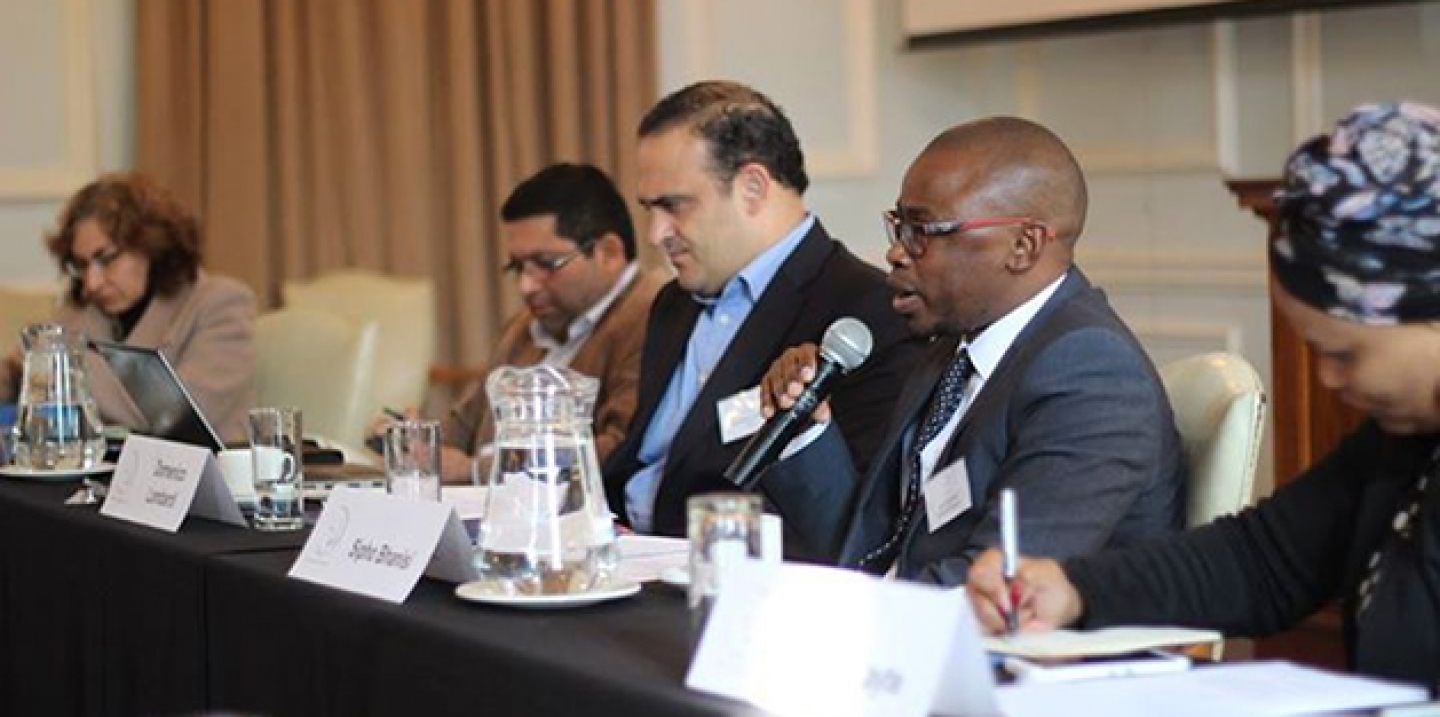 On July 2, 2015 at the South African Institute for International Affairs (SAIIA) in Johannesburg,  CIGI co-hosted a workshop on Global Sustainability, Climate Change and Finance Policy from a South African perspective. The workshop brought together scholars from SAIIA and CIGI with the addition of government and private sector representatives from South Africa. The topic of the workshop remains a large global governance gap due to the ever increasing importance of finding solutions to the world's climate finance needs to reduce carbon emissions and develop climate adaptation strategies. The financial system continues to invest in unsustainable development without integrating environmental risk into their assessment of value and returns. Beyond the issues with financial markets, global commitments to mitigation and adaptation strategies lack strong leadership at the multilateral level, which does not allow for implementation at the national and local levels. With the Paris UNFCCC COP 21 fast approaching, these issues deserve attention on a global scale.
The workshop kicked off with the Chief Executive of SAIIA, Elizabeth Sidiropoulous reminding the room of the history of partnership between CIGI and SAIIA, specifically on the Africa Portal. The Africa Portal is an online research knowledge resource for policy related issues on Africa. Following from this introduction, Domenico Lombardi, Director of the Global Economy Program, discussed the possible role of the G20 as a forum for climate finance discussion and the potential role to be played during China's G20 Presidency in 2016. CIGI Senior Fellow Olaf Weber joined the workshop discussing his recent work on the Development of Sustainability and Green Banking Regulations while investigating the case study of South Africa. Founder and Managing Director at Feasibility (Pty) Ltd., Penelope Hawkins, incorporated the example of Kenya into the discussion looking at past examples of the inclusion of sustainability into financial sector practices. As the workshop progressed, the focus turned to the need to integrate climate finance into the  financial sector's thinking. In the case of South Africa, the major challenge is creating a framework that is focused on continued economic growth that is also based on the inclusion of climate finance, mitigation, and adaptation.
Sustainability, Climate Change & Fin. Policy @SAIIA_info w/@CIGIonline @domeniclombardi @olaf_weber #climatefinance pic.twitter.com/LPo0PhNY3T

— Alisha Clancy (@ANClancy) July 2, 2015
Sustainability has different notions in different regions. What are consequences for susty finance? #ClimateFinance @SAIIA_info @CIGIonline

— Olaf Weber (@olaf_weber) July 2, 2015
In order for a strategy to be developed, climate finance will need to address domestic and regional characteristics in addition to public safety and welfare issues to be effective. The immediate concerns facing South Africa, mainly energy and natural resources management, were discussed based on a short term outlook. However, the workshop participants were in agreement that it is more beneficial to create more long term strategies to address these issues, while recognizing this process remains easier said than done due to the politics surrounding the issues. The Head of SAIIA's Governance of Africa's Resource Programme, Ola Bello led a panel on the impact of climate finance on sustainable development. The main take away, based on the input of panelists from public and private sector, was that a new approach is necessary that moves away from the United Nations Framework Convention on Climate Change (UNFCCC) negotiations and multilateral green funds, and focuses more on diversifying climate financing through domestic or foreign investment in the sector. Specifically, the CEO of One World Sustainable Investments, Belynda Petrie, summarized  how to advance Africa's position on global climate finance and why South Africa was well-positioned to represent multiple African countries at a global level.
#climateFinance debate @SAIIA_info: "investment visibility & transition map key2 greening" @WWF's S.Fakir @CIGIonline pic.twitter.com/F1zd3KEsWL

— Ola Bello (@DrOlaBello) July 2, 2015
Advancing Africa's Position on Global Climate Finance ~ new SAIIA paper http://t.co/hKCblmPEVF

— SAIIA (@SAIIA_info) June 30, 2015
The workshop provided an important regional perspective on climate finance and the numerous hurdles it faces in different economies and climates. Moving the climate finance discussion forward will involve a strong business case that investing in low carbon sustainable policies and technologies will create economic growth. Innovative technologies will need to be adopted not only by developed countries but also by emerging countries in order to have any mitigation outcomes. CIGI's Global Economy program focuses on financing sustainable development and will have a policy brief on this workshop that will be released in early fall 2015.