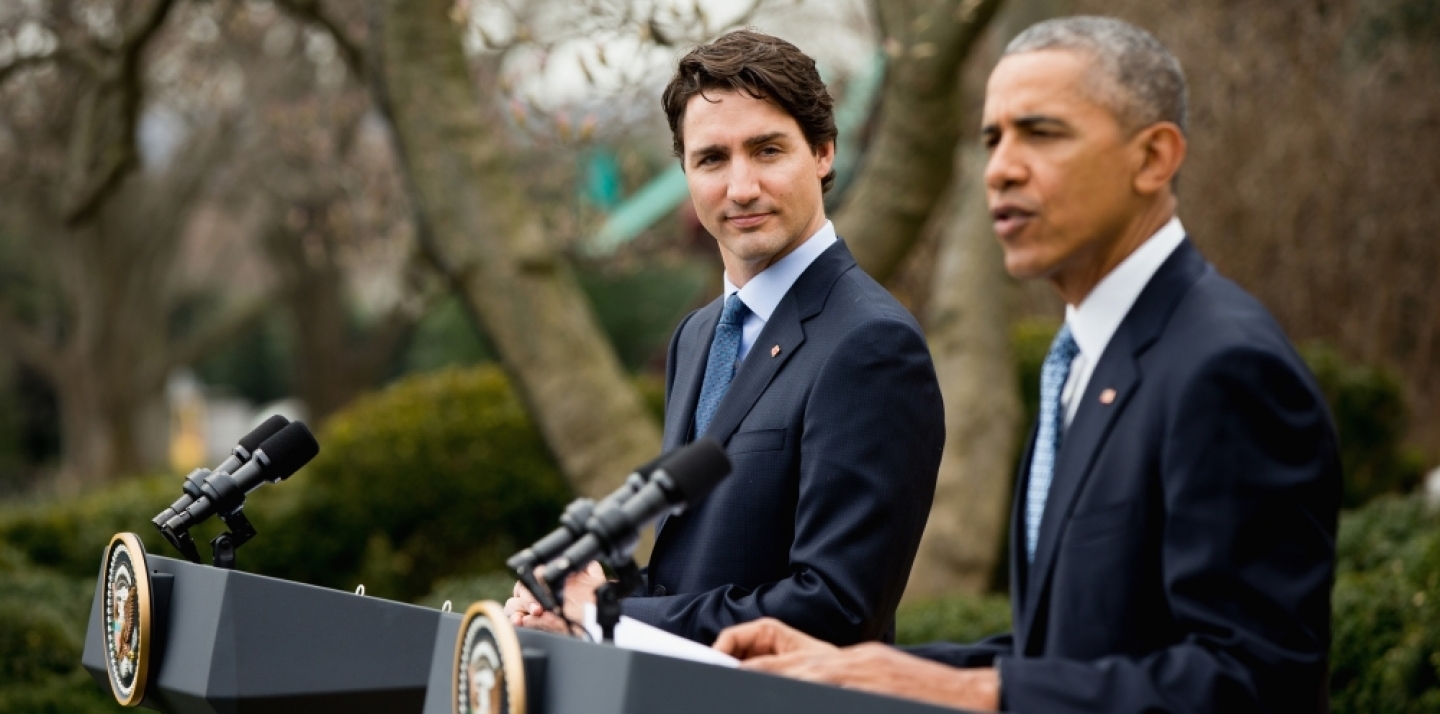 I don't know if Canadian Prime Minister Justin Trudeau, a recreational boxer, approaches politics like he's in the ring. But he appears to be using a classic boxing strategy in confronting the opponents of a national carbon price: allow them to flail in the early rounds, and then knocking them out when they've tired.
Some long suffering members of the climate fight might have wanted their new hope to come out of the corner punching. Trudeau had the electoral mandate to do so. He won 184 of 338 seats in Parliament and a majority of districts in 11 of the country's 13 provinces and territories. He was clear he would make polluting more expensive if given the chance. Canadians voted for a carbon tax, or something very similar.
But Trudeau is pacing himself. He showed restraint in Washington last week, as he opted against using his glitzy White House dinner as a platform to make grand promises. Trudeau and President Barack Obama said they would reduce methane emissions from the oil-and-gas industry by at least 40 percent below 2012 levels within the next decade. As Bloomberg News noted in an editorial, methane accounts for about 3 percent of greenhouse gasses in the US and 6 percent In Canada. "Why did this week's announcement of a joint effort to reduce methane emissions feel so underwhelming?" Bloomberg's opinion writers asked rhetorically. "Because it was." If this is the best two big polluters like the United States and Canada can do, then the climate goals set in Paris last year are in trouble.
Both leaders intend to do much more on climate change. Obama faces considerable political constraints, but has shown he will use his executive powers to confront what he considers a threat on par with Islamic terrorism. And Trudeau only is getting started. He appears to understand the risks involved in abusing a political majority. Obama's audacious overhaul of American health care always may have been destined to hurt his chances of maintaining Democratic control of Washington, which he enjoyed for the first two years of his presidency. But he didn't help himself by pushing the Affordable Care Act through Congress with almost no Republican support. That decision strengthened the argument that Obamacare was forced on an unwilling nation. Obama never really has recovered from it, and the House of Representatives and the Senate now are run by the Republicans.
Trudeau could implement a national carbon tax the same way Obama changed healthcare. Trudeau has the authority and he has the votes. He ultimately may do so. But that's the second-best strategy. A policy shift on the scale of a carbon price will be stronger if backed by a broad political consensus. He left a meeting with provincial and territorial leaders on March 3 with abstract promises to get serious about climate change. However, First Ministers agreed they would study the matter for the next six months before a final decision is made in the autumn. Reports also will be public. That should be all Trudeau needs to secure a broad consensus on a carbon price, especially given the weakness of the arguments of the doubters. 
The two serious opponents of a national carbon price are Saskatchewan and Nova Scotia. Saskatchewan Premier Brad Wall, the longest-serving premier and the leader of a province that elected only one of a possible 14 candidates from Trudeau's Liberal Party in October, called an election days after the prime minister and the provincial leaders ended their climate meeting in Vancouver. The vote is scheduled for April 4 and he will be telling voters that they have done their bit for climate change by spending hundreds of millions of dollars on a carbon capture facility. Nova Scotia Premier Stephen McNeil said his province already had put a price on carbon by substituting cheap coal for more expensive hydropower.
Reducing the amount of sulfur dioxide, nitrogen oxides and particulates in the air is reason enough to quit coal now that viable alternatives exist. McNeil is seeking more credit than he deserves by suggesting his province has done its part for climate change. It's a start, but consumption of oil and gas must decline too. That means making it more expensive to buy, more expensive to produce, or both. Most Nova Scotians likely know that: Liberals swept the province in the federal election. Saskatchewan will take more convincing, but it seems unlikely that Wall, assuming he is re-elected, would allow himself to be isolated from the global consensus on the need for a carbon price. A concession will sting less than the embarrassment of a knock out.
Trudeau could implement a national carbon tax the same way Obama changed healthcare. Trudeau has the authority and he has the votes. He ultimately may do so. But that's the second-best strategy.