---
Participation in this event is by invitation only
---
By allowing digital information to be distributed but not copied, blockchain technology has created the backbone of a new type of Internet. Originally devised for the digital currency, Bitcoin, the tech community is now finding other potential uses for the technology. In this official side event of the United Nation's Conference on Climate Change (COP23) Oonagh Fitzgerald, Director of CIGI's International Law Research Program, will join blockchain experts, policy makers and technology innovators to discuss how this new technology can be utilized to mitigate climate change and increase transparency. 
Event Speakers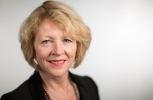 Director of the International Law Research Program
As director of CIGI's International Law Research Program, Oonagh Fitzgerald established and oversees CIGI's international law research agenda, which includes policy relevant research on issues of international economic law, environmental law, intellectual property law and innovation, and Indigenous law.