---
Participation in this event is by invitation only
---
CIGI has partnered with Brown University - Watson Institute and the Council on Energy Environment and Water (CEEW) to present an official side event at the United Nation's Climate Change Conference (COP23) that will focus on:
the enhanced transparency framework and accountability mechanisms within the Paris Agreement;
developing countries' viewpoints will inform recommendations for common MPGs; and
the potential of new technologies for measuring emissions will be highlighted.
Event Speakers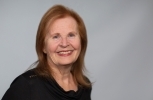 Silvia Maciunas is the deputy director of international environmental law, with CIGI's International Law Research Program. In this role, Silvia provides strategic guidance, operations coordination and management of the thematic area. Previously, she was a CIGI senior research fellow from July 2016 to February 2017.