2015 witnessed significant and successful use of domestic courts and a national human rights commission to limit climate change emissions and impacts.
This special session will focus on why domestic litigation on three continents has been successful, as well as on the prospects for similar litigation in other jurisdictions, particularly in light of some worrisome aspects of the December 2015 Paris Climate Agreement.   Those attending will have a unique opportunity to hear from and discuss these issues with the key jurists involved in these cases:
From Holland - Roger Cox, the Dutch Attorney who imagined and successfully argued the groundbreaking case for the Urgenda Foundation, in which the Court of the Hague found the Dutch government owed a tort duty of care to its citizens requiring the government to rein in carbon emissions by 25% by 2020;
From Pakistan - Hon. Syed Mansoor Ali Shah, the Lahore High Court Green Bench Judge who, acting on the complaint of one citizen, found that the Pakistan government had a constitutional duty to protect citizens from climate impacts and ordered the government to take concrete measures to do so;
From the United States - Andrea Rodgers, Attorney for Our Childrens' Trust plaintiffs, who convinced a Washington state court that the state government had a public trust duty to ensure its greenhouse gas emission standards are sufficiently stringent to protect children from the burden of future climate change emission;
From the Philippines - Zelda dT Soriano, an attorney for Philippine citizens who in 2015 succeeded in having the Philippines Human Right Commission agree to investigate their complaint alleging that large private carbon companies located in other countries have responsibility for climate induced human rights violations in the Philippines.
This special session will be chaired by veteran environmental attorney David Estrin and is being presented by the Centre for International Governance Innovation's International Law Research Program. 
Event Speakers
CIGI Senior Research Fellow, International Law Research Program
CIGI Senior Research Fellow David Estrin's career has combined environmental and resource law, policy advice, litigation, teaching and writing. At CIGI, he will be focused on international environmental law issues. One of his projects examines governance and regulation of the extractive and energy sectors in light of rapidly evolving international law expectations for enhanced environmental protection and corporate responsibility, and the linkages of these issues to human rights.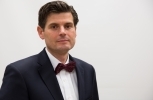 CIGI Senior Fellow
Roger Cox is a CIGI senior fellow with the International Law Research Program, effective September 2015. An expert in climate change law, he is partner at the Dutch law firm Paulussen Advocaten and was the lead lawyer for the Urgenda Foundation, which won a controversial decision in June 2015 when The Hague District Court ordered the Dutch government to cut greenhouse gas emissions by at least 25 percent by 2020.