The previous climate extravaganza in 2009 was a failure, compared to its lofty expectations. A late intervention by the U.S. President and the Heads of China, Brazil, India and South Africa produced a last minute statement which was promoted as a success. The Paris CoP will be viewed by many as humankind's last chance to make the cuts to CO2 needed to prevent a climate catastrophe. David Runnalls proposes that will not happen, and asks if Paris can be a success despite the unwillingness of governments to face up to the reality described by the scientists?
Event Speakers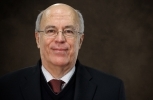 CIGI Distinguished Fellow
David Runnalls is a distinguished fellow and was formerly acting director of the Environment and Energy Program at CIGI. He also provided strategic advice and support for CIGI Chair Jim Balsillie's role at the United Nations High-level Panel on Global Sustainability. He remains a distinguished fellow at the International Institute for Sustainable Development and a senior fellow at Sustainable Prosperity. David is chair of the International Centre for Trade and Sustainable Development.