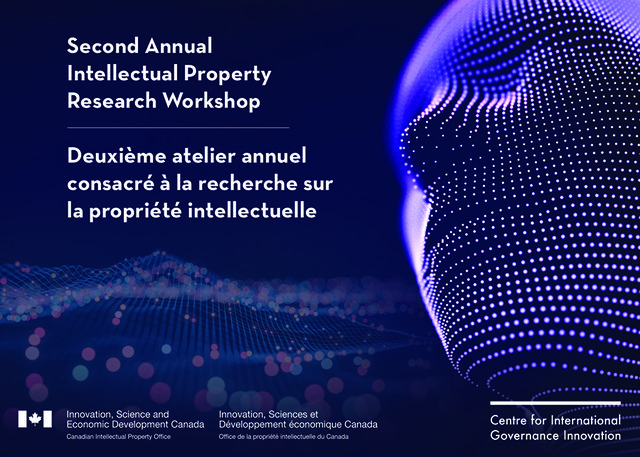 On Monday March 25th, 2019, the Canadian Intellectual Property Office (CIPO) and the Centre for International Governance Innovation (CIGI) hosted the Second Annual Intellectual Property Research Workshop at Library and Archives Canada (395 Wellington St, Ottawa, Ontario, Canada).
This year, we were pleased to host a full day workshop on the nexus between artificial intelligence (AI), Big Data and intellectual property (IP) rights. The event focused on how data can be used in relation to intangible assets to support evidence-based decision making and policies; and explored the impact of AI on IP norms such as data ownership, data mining exception, data stewardship and other IP challenges.
We were pleased to welcome Alex Benay (Chief Information Officer of Canada), Carole Piovesan (Partner and co-founder of INQ Data Law), Tara Denham (Director of the Centre for International Digital Policy at Global Affairs Canada) and moderator Konstantinos Georgaras (Director General of Corporate Strategies and Services at the Canadian Intellectual Property Office) who all headlined our armchair panel on the interplay of AI, big data and IP as the day's first session.
We were also pleased to welcome our keynote speaker Benjamin Mitra-Kahn ,General Manager of Policy and Governance and Chief Economist at IP Australia, who shared his expertise in leveraging IP data and discussed deeper questions around how to consult and be open and transparent with AI in government.
We wish to sincerely thank all those who were in attendance as well as all the speakers, panelists, and moderators who made this such a successful knowledge sharing Workshop.
Please note the two Facebook Live links below. If you have any further questions regarding the work/research being conducted in this area, please contact:
Watch now >> Innovation Live Interview with Alex Benay, the Chief Information Officer of Canada, discussing the future of AI, big data and IP in Canada
Watch now >> Facebook Live Recording of Session 1 - Interplay of AI, big data, and Intellectual Property Rights
_______________________________________________________________________________________

Le lundi 25 mars 2019, l'Office de la propriété intellectuelle du Canada (OPIC) et le Centre pour l'innovation dans la gouvernance internationale (CIGI) ont tenu leur deuxième atelier annuel consacré à la recherche sur la propriété intellectuelle à la Bibliothèque et Archives Canada (395 rue Wellington, Ottawa, Ontario, Canada).
Cette année, l'atelier d'une journée traitait du lien entre l'intelligence artificielle, les mégadonnées et les droits de la propriété intellectuelle. L'atelier fut axé sur la façon dont les données peuvent être utilisées en lien avec les actifs incorporels à l'appui de la prise de décisions et de l'établissement de politiques fondées sur des données probantes. L'incidence de l'intelligence artificielle (IA) sur les normes de propriété intellectuelle (PI), ce qui inclut des aspects tels que la propriété des données, les exceptions relatives à l'exploration des données, l'intendance des données et d'autres défis entourant la PI fut aussi examinée.
Nous sommes ravis d'avoir eu le plaisir d'accueillir Alex Benay (dirigeant principal de l'information du Canada), Carole Piovesan (Partenaire et cofondatrice, INQ Data Law), Tara Denham (Directrice, Centre pour la politique numérique internationale, Affaires mondiales Canada) et modérateur Konstantinos Georgaras (Directeur général, Stratégies et services organisationnels, Office de la propriété intellectuelle du Canada) qui a tenu une séance de haut niveau sur l'IA et qui a discuté des initiatives numériques de premier plan du gouvernement du Canada dans ce domaine.
De plus, le conférencier principal, Benjamin Mitra-Kahn, Gestionnaire principal de politique et de gouvernance et économiste en chef chez IP Australia, nous as fait bénéficier de son expertise en matière d'exploitation des données sur la PI et a discuté de questions plus pointues sur la façon d'effectuer des consultations et de faire preuve d'ouverture et de transparence en matière d'IA dans un contexte gouvernemental.
Merci à tous ceux qui étaient présents aux conférenciers, aux experts ainsi qu'aux modérateurs, qui ont fait de cet atelier un fructueux partage des connaissances.
Veuillez prendre note des deux liens «Facebook Live» ci-dessous. Si vous avez de plus amples questions concernant le travail et la recherche touchant ce domaine, veuillez contacter:
Visionnez maintenant >> Innovation en entrevue en direct avec Alex Benay, le dirigeant principal de l'information du Canada, discute de l'avenir de l'IA, des mégadonnées et de la propriété intellectuelle au Canada
Visionnez maintenant >> Enregistrement «Facebook Live» de la première séance - Interaction entre l'IA, les mégadonnées et les droits de propriété intellectuelle