The Climate Choices Canada Conference brings together scholars, policy experts, practitioners and students to take stock of Canada's existing climate policies and to discuss future policy options in light of an evolving political and policy landscape.
As part of this timely event, CIGI's International Law Research Program (ILRP) presents a workshop including two panel discussions on climate change from a legislative and policy perspective. 
The first panel of experts includes CIGI Post-Doctoral Fellow Maria Panezi and Queen's University Professor of Economics and Financial Policy Thomas J. Courchene, who will discuss how best to design carbon-reducing legislation while encouraging clean air technology innovation. Plus: CIGI Senior Research Fellow David Estrin and others will discuss the need and means to leverage Canadian public concern for a better climate.

For more details on the workshop agenda and registration, please visit the Climate Choices Canada Conference website.
Event Speakers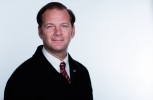 Erik Davies is the interim manager of strategic initiatives and special projects at CIGI. In his role as manager, Erik contributes to the strategic direction of programs at CIGI by assisting in the design and implementation of key initiatives and management of projects.