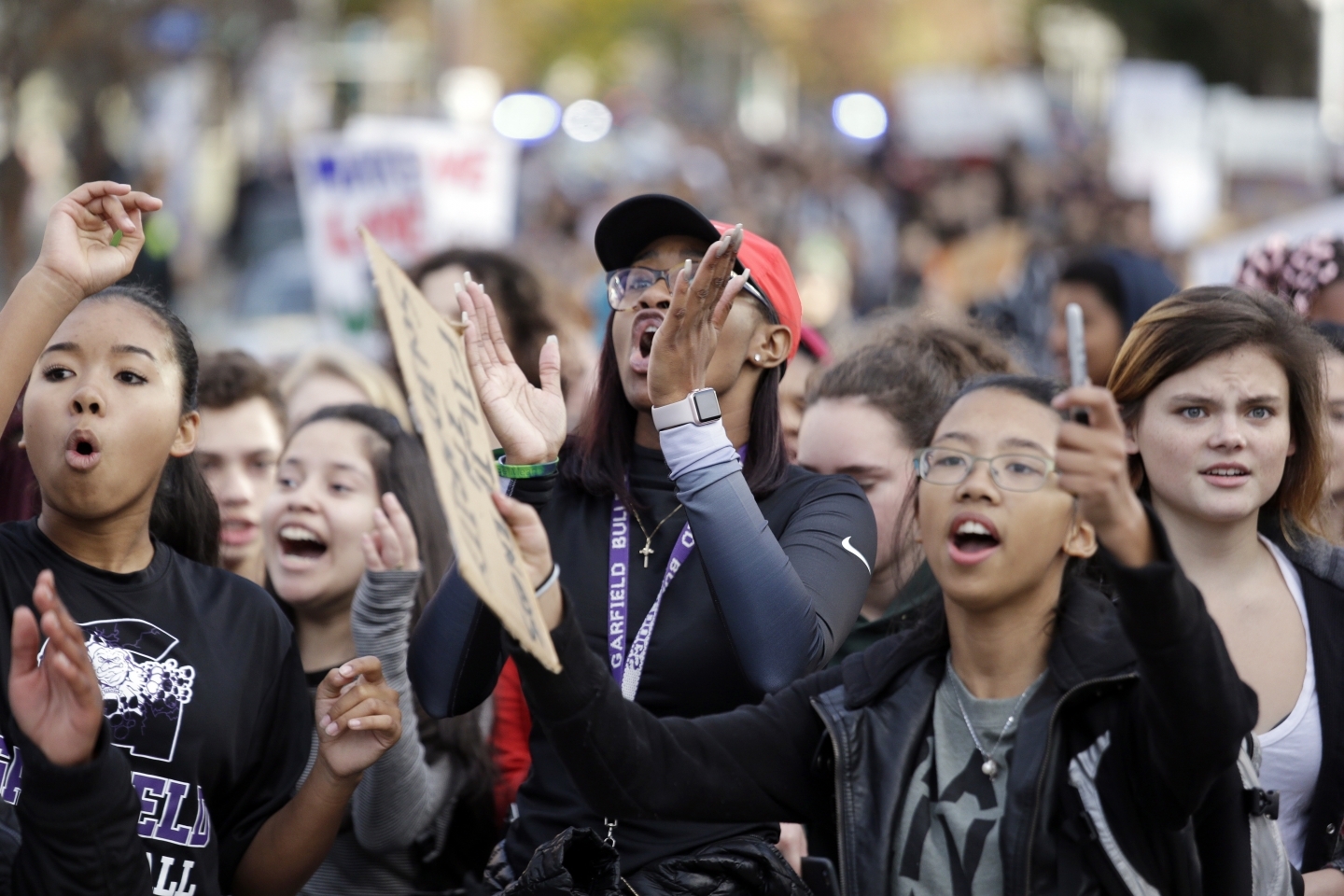 Battle lines are forming. Donald Trump campaigned on "America First" pledges to challenge the pillars of Barack Obama's energy policies and international efforts to combat climate change. The backlash has begun.
"If Trump does try to undermine climate action, he will run headlong into an organized mass of people who will fight him in the courts, in the states, in the marketplace, and in the streets," warned Michael Brune, executive director of America's biggest grassroots environmental organisation, the Sierra Club.
As Trump's transition team moves to fill key positions in the new administration, climate change and international trade agreements are shaping up as two of the main arenas for the test of whether the new administration will shift the United States from acting as the post-war shaper and guarantor of global order to a force for instability.
In his pronouncements to date, the property mogul has shown that neither international institutions nor alliances will be considered sacrosanct in his drive to "put America first".
This antipathy to global compacts like the Paris agreement on climate change appears to have been encouraged by advisers like Stephen Bannon, one of the president-elect's first appointments to his White House staff.
The chief strategist is the executive chairman of Breitbart News, a media organization associated with the so-called alt-right that has reveled in declaring that "climate change is the biggest scam in the history of the world", "the greatest-ever conspiracy" and a "hoax" - sentiments echoed on the campaign trail by Trump.
A source in the Trump transition team was cited by Reuters as confirming that the president-elect was looking for a fast withdrawal from the Paris treaty, which came into force just four days before the November 8 election, boosted in September by a joint commitment to ratify the treaty from Barack Obama and China's Xi Jinping in a marked display of superpower unity.
The shock news of Trump's triumph over Hillary Clinton broke just as negotiators from some 190 governments were assembling in Marrakesh in Morocco for a 12-day conference to draw up the rules and mechanics for implementing the Paris accord, which seeks to limit global warming by cutting carbon emissions. The treaty agreed last December sets out a four-year procedure for signatory states to withdraw, but this could be challenged by the next administration.
For the moment though, among observers on embassy row in Washington and beyond, there is total uncertainty and confusion over Trump's intentions, not just over climate change.
Fresh scrutiny is being given to what Trump called his 100-day energy action plan, which he laid out at a North Dakota petroleum conference on May 26.
Trump's program would rescind Obama's far-reaching Climate Action Plan – arguably one of his greatest legacies. Trump promised to save the coal industry, greenlight the Keystone Pipeline from Canada, lift moratoria on energy production in federal areas, remove "unwarranted" restrictions on new drilling technologies, stop all US contributions to UN global warming programs and cancel the Paris climate agreement.
"Any regulation that is outdated, unnecessary, bad for workers, or contrary to the national interest will be scrapped," Trump declared.
But a revised 100-day action plan released by the Trump campaign in late October contained notable discrepancies, dropping all reference to the Paris agreement while putting the emphasis on lifting restrictions on production of "shale, oil, natural gas and clean coal" and "vital" energy infrastructure projects such as the Keystone Pipeline. It did reaffirm however Trump's intention to cancel "billions" in payments to UN climate change programs intended to help poorer countries make and survive the transition to cleaner energy.
Key appointments to the president-elect's transition team are also raising eyebrows, notably the appointment of Myron Ebell, a prominent climate change sceptic and director of energy policy at the Competitive Enterprise Institute which is partially funded by the coal industry. Ebell will oversee plans for the Environmental Protection Agency, whose Clean Power Plan to slash emissions from mostly coal-fired power stations he and Trump strongly opposed.
The Clean Power Plan, which is challenged by corporations and 28 states in cases expected to reach the Supreme Court next year, is key to the US meeting its emission-cutting commitments under the Paris accord.  
While Trump cannot simply "cancel" the Paris agreement, he could seriously undermine it. A clear failure by the US to work towards honouring its commitments, which are not legally binding, risks a wider unravelling of a process that took more than two decades to reach. China and the European Union say they will keep to their targets regardless, but there is a question mark over the willingness of major polluting countries such as India.
Trump's dramatic entrance comes just as the world appears to be making progress in slowing down or even reducing carbon emissions. Latest figures, released by researchers at the University of East Anglia and the Global Carbon Project, project that global carbon emissions could have stalled in 2015 and may decline by 0.6 percent this year. Detailed data were made available in the open-access data journal Earth System Science Data on November 14.
"While declines in emissions have previously occurred during periods of economic crisis, this would be the first decline during a period of strong global economic growth," ESSD reported.
Progress is attributed in part to the growth of renewable energy sources and the decline of coal, in the US and China.
Corinne Le Quéré, Director of the Tyndall Centre at University of East Anglia, says it is "unlikely" that emissions have peaked forever and warns that the amount of CO2 in the atmosphere has now reached 400 parts per million, its highest level in at least 800,000 years.
The sense of uncertainty over future US energy policy has not stopped a legion of analysts from computing the possible environmental fallout of a Trump administration.
Lux Research said it estimated that US carbon emissions would be 16 percent higher after two terms of Trump's policies than they would have been under two terms of Clinton. However, it also noted that expansion of gas extraction from fracking would only work against Trump's parallel goal of reviving coal production.
While Trump will want to pay back the popular anger that he harnessed, it is not clear a dramatic break with the Paris accord would serve those ends, while the damage to US credibility on the international stage would be significant.
The Financial Times quoted an unnamed senior Chinese negotiator in Marrakesh as warning Trump that he would be defying the wishes of the planet if he backed out of the Paris climate agreement.
The Paris accord has so far been formally ratified by 109 countries responsible for 76 per cent of global greenhouse gas emissions. The US accounts for 18 per cent.
Under the accord, the US would reduce its greenhouse gas emissions by 26 to 28 per cent by 2025 compared with 2005 levels. By 2014 net emissions had fallen by 8.6 percent, according to the EPA.
The agreement aims to limit global warming to more than 2 degrees centigrade above pre-industrial levels, although some experts say that target is already beyond reach.
The backlash from the increasingly globalised environmental movement should not be underestimated.  
 "A Trump presidency puts us at a severe risk of triggering catastrophic climate change above 2 degrees centigrade and closing the narrow window that exists for humanity to take the action required to stop climate change spiralling out of our very limited control," Hannibal Rhoades, activist and spokesman for the London-based Gaia Foundation says.
"Whether Trump decides to try and pull the US out of the Paris agreement or simply ignore its contents, ambitions and the booming renewables market, his actions on climate seem sure to be disruptive of the fragile political cooperation on climate change that exists between world governments, encouraging other nations to abandon ambitious climate goals in short-sighted self-interest too," he commented.
"Trump's victory will be measurable in rising seas, worsening floods and droughts, a growing number of forcibly displaced and devastated refugees and rapidly increasing global extinction rates. As usual the world's most marginalised human communities will be worse affected," says Rhoades, who views the apparent Trump course as a threat to future generations of all species.
The Sierra Club's Brune notes, somewhat more optimistically, that the fastest growing sector of the US economy is renewables, which may yet catch the eye of the incoming president.
The London School of Economics' Grantham Research Institute on Climate Change and the Environment notes that while Trump has made negative comments about wind turbines, his campaign promises have not included an end to promoting renewable power generation. The Institute says it is unlikely that he would try to prevent states, such as Texas and California, from continuing to increase the use of renewables.
Perhaps, for the entrepreneur-president, it is the business argument that will finally prevail.
Guy Dinmore spent 16 years at Reuters - with postings in London, Vienna, Poland, Beijing, Hong Kong and in Nicosia covering the Middle East and Africa - and 16 years at the Financial Times, joining in the Balkans, then moving to reopen the FT bureau in Tehran, before serving as diplomatic correspondent in Washington for five years, Rome correspondent for seven years, and then moving to Yangon, where he was news editor of the Myanmar Times