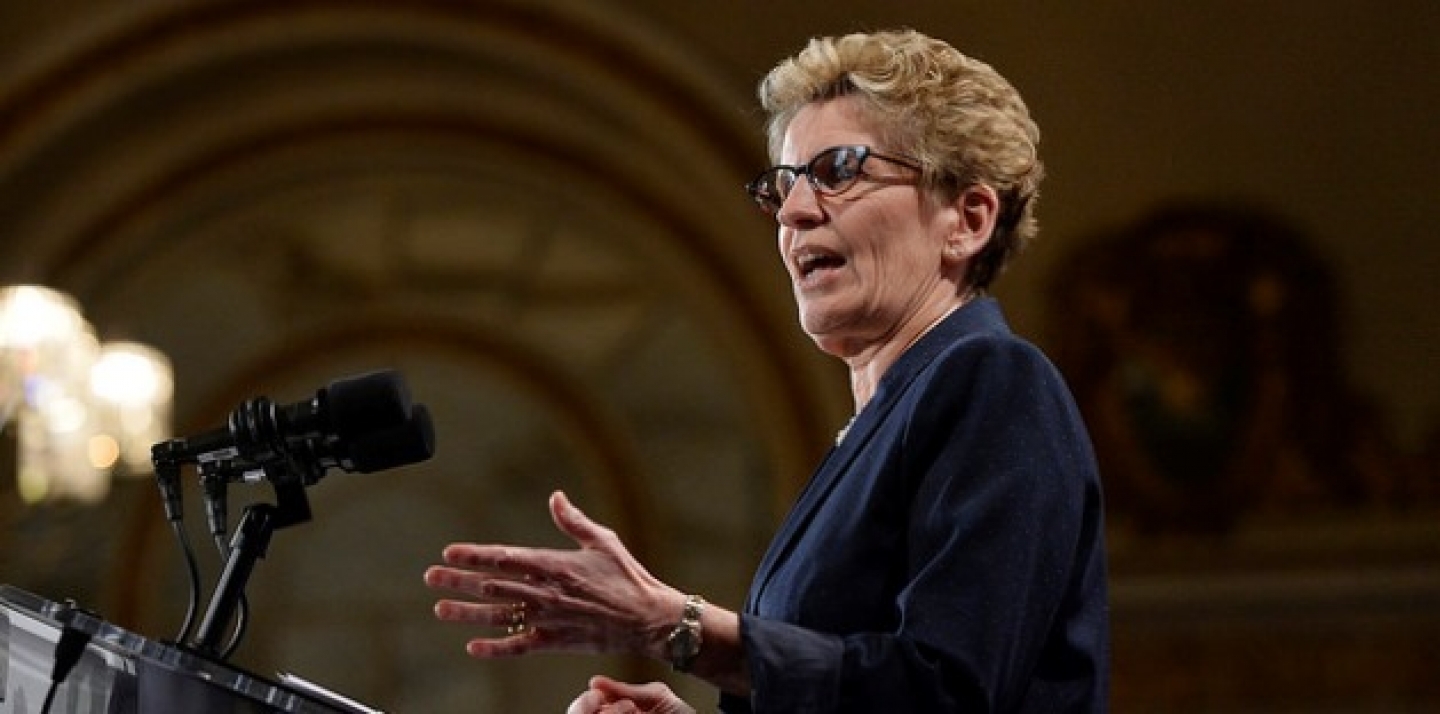 Describing climate change as "a problem that is both critically important and urgent," today Ontario Premier Kathleen Wynne announced that the province is joining the Western Climate Initiative greenhouse gas (GHG) cap and trade system, with other jurisdictions, notably Québec and California (See: Cap and Trade System to Limit Greenhouse Gas Pollution in Ontario). Ontario will reduce the amount of GHG pollution in the atmosphere by setting a cap on the emissions allowed in each sector of the economy. Under the cap and trade system, businesses will have their own GHG quota and will be able to sell what they do not need to use, thereby being rewarded for green innovation and eco-efficiency. Underlying the importance of Ontario's fast growing clean-tech sector, Premier Wynne made the announcement at the site of Ecobee, a Wi-Fi thermostat manufacturer, and stated that money raised through cap and trade would be reinvested in projects that reduce GHG pollution and help businesses remain competitive. 
The timing of this announcement is auspicious as a consensus is coalescing around both the need and the approach to address climate change. Canada's EcoFiscal Commission, a blue-chip panel of economists, just issued a report arguing that carbon pricing is the least costly, most efficient and effective way to reduce Canada's greenhouse gas emissions and that provinces are best placed to come up with an effective trading system. Recent polling by Environics indicates Canadians share Premier Wynne's sense of urgency and concern, believe the climate change science, and are increasingly willing to shoulder the burden of addressing climate change.  
This announcement comes two weeks after the completion of the Province's highly successful public consultation on its Climate Change Discussion Paper (PDF) with respect to the international law dimensions of  the discussion paper, the International Law Research Program (ILRP) provided a submission. The CIGI ILRP submission focused on four areas:
Indigenous peoples and risks to communities: Encouraging active involvement and participation of Ontario's indigenous communities in formulating policies and designing mitigation and adaptation strategies in accordance with best practices in international human rights law and practice;
 
Actions in key sectors: Recommending incentives for rapid development, commercialization and globalization of clean technology, by establishing and linking entrepreneurship centres to act as technology transfer hubs in promoting, financing and commercializing climate-friendly technological innovation;
 
Putting a price on carbon: Recommending careful attention to legal and regulatory design considerations in applying market mechanisms to price carbon, whether pricing is done by a carbon tax or various kinds of emissions trading schemes, to ensure efficacy, accountability and transparency;
 
Science and technology: Recommending strengthening the role of intellectual property legal knowledge mobilization in the commercialization of low-carbon technologies by encouraging and adequately resourcing Ontario law schools to establish international IP law clinics to provide transactional support to start-ups throughout the province.
The ILRP submission also included a summary of topics for further research on international and transnational law related to climate change (see: Emerging Issues in International and Transnational Law Related To Climate Change: International Environmental Law Consultation Workshop).
This is a busy year for making progress on climate change, with today's provincial announcement coming two weeks after the March 31 deadline for state parties to file their Intended Nationally Determined Contributions (INDCs); one day before the Quebec Summit on Climate Change; three months prior to Ontario hosting its July 7-9 Climate Summit of the Americas to advance sub-national collaboration on climate change; and nine months ahead of the 21st Conference of the Parties in Paris in December.
While the federal Department of the Environment has for some time been gathering data from the provinces to tally up Canada's INDCs, it appears that federal Environment Minister Leona Aglukkaq only formally wrote to her provincial and territorial counterparts on April 10, requesting updated information to bolster GHG reduction targets. In her letters to the provinces about the INDCs, Minister Aglukkaq is said to have written, "This contribution is expected to be national in scope and reflect action by all levels of government with quantifiable post-2020 emission reductions." In this, the minister is correct and one hopes there will be a robust national discussion, even if it is somewhat belated, about how the INDCs are to be established and achieved.  There have been murmurings of concern that the federal government might simply tally up, and then take credit for, all the climate change actions of the provinces and territories. Ontario Minister for the Environment and Climate Change Glen Murray has argued that multilateral failures by national governments at the Kyoto and Copenhagen negotiations mean that the voices of "subnational governments and corporations and the NGO community" are also needed to ensure COP21 leads to meaningful change (See: Feds quietly canvass provinces for climate change measures ahead of Paris talks).
The laudable climate change action by the provinces of British Columbia, Québec and Ontario, in particular, demonstrates that Canada is not only the sum of its parts but is an interactive laboratory where national and subnational governments, business and industry sectors, and cities and civil society can learn from each other, refining and improving approaches until we arrive at a truly effective, ambitious and comprehensive approach to reducing GHGs and addressing climate change mitigation and adaptation. The fact that Canadian provinces are collaborating with foreign subnationals and learning from others' experience with emissions trading schemes only strengthens the likelihood of achieving success.
Once the provinces have articulated their ambitious commitments, the CIGI ILRP hopes to see the federal government rapidly tally the results, including specific federal commitments, and then test the draft INDCs through a multi-stakeholder round of public consultation before submitting final INDCs to the UNFCCC Secretariat on behalf of all Canadians.