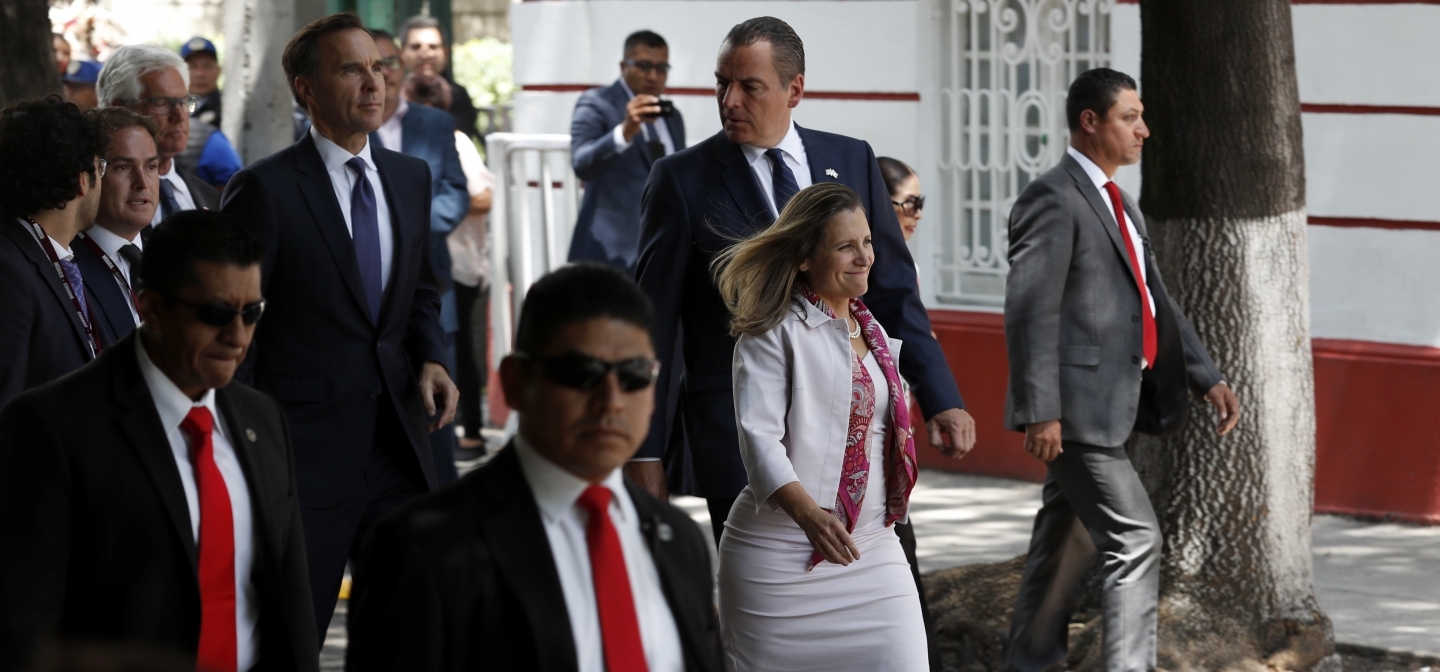 On August 16, 2017 after months of repeated threats by US President Donald Trump to withdraw from the 23-year-old North American Free Trade Agreement (NAFTA), the United States, Canada and Mexico began renegotiations with the goal of modernizing the trade deal and ensuring it reflects North America's twenty-first-century economic reality.
After months of talks, NAFTA parties have failed to reach a deal. To make sense of the complex, ongoing negotiations, explore commentary and analysis from the Centre for International Governance Innovation's experts and contributors.
Opinion
Possible Auto Tariffs Could Reshape NAFTA Talks
Earlier this month, US Commerce Secretary Wilbur Ross told a packed room of critics that it was still too early to tell if the Trump administration will impose a tariff of 25 percent on imported autos and car parts. Journalist Ron Orol explains how such a tariff would wreak havoc on Canadian automakers — and NAFTA negotiations.
The View from Mexico on NAFTA: It's Complicated
Elites in Mexico have bet everything on NAFTA — but could there be life after the trade agreement? Journalist David Agren reports from Mexico, where he finds varying assessments of NAFTA's impact over the last 23 years.
Need a NAFTA Deal on Autos? Remove Mexico from the Equation
Canadian and US auto sectors were once subject to the Auto Pact, which is regarded by many as the best trade deal Canada ever negotiated. Today, Canada, the United States and Mexico are deep into NAFTA negotiations, with no beneficial deal for autos on the horizon. Senior Fellow Jeff Rubin argues that it's time to scrap all hope for a trilateral deal, and that Canada and the United should consider a pact without Mexico.
NAFTA's Dairy Divide
Whatever the result of NAFTA renegotiations, economy-driving sectors in all three countries will feel the impact of a new trade deal. Journalist Ron Orol digs into the possible outcomes for the diary industry in both Canada and the United States.
NAFTA's Deficit Dispute is Futile
Following the sixth round of NAFTA renegotiation talks, Canadian Minister of Foreign Affairs Chrystia Freeland and US Trade Representative Robert Lighthizer initiated a tit-for-tat argument on the trade deficit between their respective nations. CIGI Senior Fellow Kevin Carmichael explain why trade deficits have little to do with negotiating and new trade deal.
NAFTA and the Knowledge Economy
This series examines what the renegotiation of NAFTA means for the knowledge economy in Canada and for the people who turn ideas into innovations within one of the world's largest free trade zones.
Publications 
Digital Trade: Is Data Treaty-Ready?
The knowledge-based and data-driven economy will have transformative impacts on how goods and services are traded across borders — which is exactly why a digital trade chapter is on NAFTA's negotiating table. But according to CIGI Senior Fellow Dan Ciuriak, the data-driven economy might not be ready to be effectively governed in a trade pact. 
Information Please: A Comprehensive Approach to Digital Trade Provisions in NAFTA 2.0
CIGI Senior Fellow Susan Aaronson argues that Canada should use the upcoming talks to ensure that trade rules designed to govern the data-driven economy maintain internet openness and stability while enhancing human welfare. 
How Has Canadian Manufacturing Fared under NAFTA? A Look at the Auto Assembly and Parts Industry
Senior Fellow Jeff Rubin asks, with the Trump administration serving notice that it will be renegotiating NAFTA and specifically targeting Mexico's burgeoning assembly and parts industries, what are the best trade policy options for Canada's largest manufacturing sector and exporter?
Moving Toward a Trade and Indigenous Peoples' Chapter in a Modernized NAFTA
Canada should continue to push for such a chapter on Indigenous peoples and trade in NAFTA, for both principled and pragmatic reasons, argues former Senior Research Fellow Risa Schwartz.
Modernizing NAFTA: A New Deal for the North American Economy in the Twenty-first Century
Regardless of the rhetoric coming from the Trump administration, argue CIGI Senior Fellow Patrick Leblond and the University of Calgary's Judit Fabian, Canada should approach any NAFTA renegotiation with a "best case" agreement as its starting point.
Multimedia
How Canada's Auto Industry Is Vanishing under NAFTA
CIGI Senior Fellow Jeff Rubin examines the current economic state of the Canadian automotive industry, and offers options for how NAFTA renegotiations could benefit Canadian auto workers.
NAFTA Negotiations: Chapter 19 — Antidumping and Countervailing Duties
NAFTA's Chapter 19, which addresses antidumping and countervailing duties has emerged as a sticking point in renegotiation talks. In this video, Senior Fellow Armand de Mestral gives a brief history of Chapter 19 and explains why Canada would be very sorry to see it go.
Why Trump Needs a NAFTA Win
With the 2018 US mid-term elections looming, Senior Fellow Patrick Leblond explains why, despite blustering rhetoric, Trump needs a NAFTA win.
NAFTA and the Fate of Labour Rights
The architects of the original NAFTA believed that newly empowered workers would organize and collectively bargain to gradually achieve higher wages and better work conditions. But what sounds good in theory has not always played out in reality, as Senior Fellow Susan Ariel Aaronson argues.
NAFTA and the Digital Environment
The intellectual property and new digital trade chapters of NAFTA are emerging as contentious aspects of the pact's renegotiation. In this Global Policy Forum presentation, University of Ottawa law professor Michael Geist discusses the implications of using trade agreements to govern intellectual property.